'Runaway' diesel train probe at Pontypool heritage line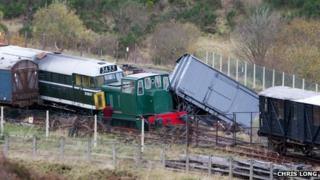 A south Wales heritage railway has confirmed that an investigation is underway after a locomotive ran away down a track.
The accident at the Pontypool and Blaenavon Railway happened on Sunday, 13 November.
Two locomotives that were coupled together rolled from a shed and down the line in the yard.
They collided with another locomotive and a box van. All were derailed but no-one was injured in the incident.
The railway said the extent of the damage would not be known until the vehicles were moved to a safe location for investigation.
Specialist equipment is being brought in for the recovery operation.
In a statement, the railway said inspectors from the Office of Rail Regulation (ORR) had visited the site and already made some recommendations, although their investigation is ongoing.
The railway said it was working with the ORR and was also carrying out its own internal investigation.
The heritage railway society began life in 1980, the year the last coal trains used the track.
It has one of the steepest inclines in Britain.