1st Battalion The Rifles given freedom of Chepstow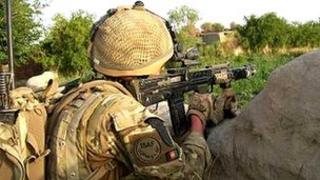 More than 500 members of 1st Battalion The Rifles are to be granted the freedom of Chepstow in Monmouthshire
Hundreds of people are expected to line the streets later on Thursday to watch the ceremony, which will take place at the main entrance to Chepstow Castle.
The parade comes a week after the last members of the battalion returned to base at Beachley Barracks in Gloucestershire from Afghanistan.
Mayor Henry Hodges will grant the freedom.
After the ceremony the battalion will exercise its right and march through the town, led by the Band of Bugles of The Rifles.
'Spirit of dedication'
Later, in a separate ceremony, some riflemen will mark completing their first tour by receiving their operational medals for service.
Mr Hodges said: "As mayor of Chepstow it is my privilege to confer the freedom of this historic town upon the Rifles regiment.
"They have shown the true spirit of dedication during their recent tour of duty in Afghanistan where some have paid the ultimate price.
"Our thoughts go out to their families and friends as we humbly welcome the regiment home when they march with honour through the town gate and down our streets."
The regiment' s commanding officer Lt Col James de Labillière said the receiving the freedom was an honour.
He said: "Chepstow plays a huge role in supporting our families and our riflemen, and more recently has been instrumental in drumming up support for our efforts in Afghanistan.
"Indeed, our Swift and Bold appeal has so far raised over £125,000 to support our wounded soldiers and bereaved families and that would not have been possible without the generosity of many people from Chepstow and the surrounding areas."