Flats plan 'to save' Porthcawl Rest Convalescent Hotel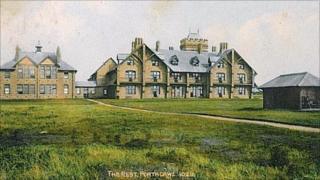 Managers at an historic Grade II-listed seaside convalescent home say the only way to preserve it from dereliction is to convert it to flats.
The 150-year-old Rest Convalescent Hotel at Rest Bay in Porthcawl will be converted to 59 apartments if a planning application is approved.
A new convalescent home would be built just behind, letting the charity which runs "the Rest" continue operating.
Bridgend council said a decision could be made in January.
Local groups which use outbuildings at the Rest have expressed concern that the plans will see their premises demolished.
Rob Gough, executive chairman of the Rest's management committee, was explicit about the impossibility of continuing with the status quo.
"If we don't do this, we're going to have a high profile Grade II-listed building that will be derelict, because we won't be there in two or three years' time," he said.
"The trouble is, the building is 150 years old. It's costing us £50,000-70,000 a year just in upkeep.
"Because of its location, we have to damp proof it every year or two. It will cost £350,000 to 500,000 to repair the roof.
"Bridgend council used to rent the day centre [for the elderly] but they withdrew the funding for it this year. That's £7,000 income gone."
Swimming pool
Mr Gough said changes to care standards in recent years had made it impossible for the existing building to register with the Care Standards Inspectorate, limiting the service they could offer. Only an annex built in recent years would qualify.
Under the proposals, developer Gary Mayo of Bryn Meadows Hotel in Caerphilly will build a new two-storey 38-room convalescence home with 55 beds behind the existing building.
Outbuildings including a day centre, a nursery, stables and greenhouses will be demolished, along with the annex.
Mr Gough said the new building would be screened by the Rest and would not be visible from the coast. It would also provide a room for Porthcawl's University of the Third Age, which is a frequent user of the Rest at present.
"On the day the new building is complete, we will hand over the keys to the Rest to the builders," he explained, adding the developers, Bryn Meadows, were planning 59 apartments, including a gym and swimming pool.
Mr Gough is holding a presentation for councillors on 1 December, which the public can attend.
He added the Rest was working with the nursery in the grounds, Little Footsteps, on finding new accommodation for them when their present lease expires.
Nursing care
Local councillor David Newton-Williams said: "I can understand their wish to do something with it, because financially it's a hard life, I'm sure. The game has changed since they went into it, and they're no longer able to give nursing care. The parameters have changed.
"This opportunity has come up, which will give the ability to perform the function they were originally doing which was to provide nursing care."
However he added: "It helps them at the moment, but they do a lot of work with community groups. It's a great regret in a way because it's a great part of the history of Porthcawl."
Corinne Coulter, co-owner of Little Footsteps, said the Rest had become dated and she could understand the need to modernise it, adding: "We're just sad that we'll be leaving the site.
"It perhaps would be of benefit [for the Rest] to be something else. If we could stay on there and be part of the new site that would be great, but we know that's not going to happen."