DNA dye Smartwater sends Torfaen metal thief to jail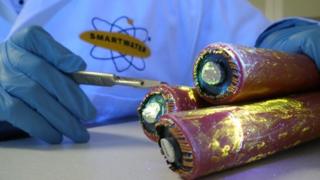 A council which has sprayed a chemical dye on its property and buildings has welcomed a jail term for a man caught trying to sell metal he stole.
The 24-year-old was jailed for 22 weeks after admitting stealing lead from Pontypool market and the Jubilee Centre in Torfaen.
It is the first successful prosecution since Torfaen began using SmartWater for fly tippers and thefts.
The council said 49 metal thefts since April had cost it £136,000.
Each container of SmartWater liquid has a unique chemical signature, ensuring property can be traced
The council was the first in Wales to use the dye against fly tippers, with it sprayed on waste materials carried by lorry.
But the recent court case in Newport stemmed from the rising number of metal thefts that have cost Torfaen £290,000 in the past three years.
Magistrates heard the cost of the lead stolen from the indoor market's roof amounted to more than £1,400 but replacing it and repairs pushed the bill to £6,000.
Footprint impressions
The court heard police officers found the man and his 18-year-old accomplice by the weighing scales at the Pontypool scrap dealer site.
Police had arrived with a SmartWater representative on a routine visit to scan metal with a UV light for traces of the liquid that is invisible to the naked eye.
Magistrates heard the pair initially denied the thefts.
But footprint impressions taken from the market were linked to the man and SmartWater analysis confirmed the metal had been taken from the roof of the market.
The man was also given a 10-week sentence for stealing lead and his co-defendant, who pleaded guilty, was given a 12-month community order.
Torfaen council said it had seen a "significant" rise in metal thefts since last year, when 35 thefts cost it £107,000, but the court case showed the £58,500 three-year SmartWater initiative was starting to pay off.
In addition to external metal on buildings, the dye is also sprayed on vehicles and equipment, as well as computers and laptops.
Torfaen executive member John Cunningham said he hoped the sentence sent out a strong message.
"Metal thieves cost Torfaen thousands of pounds every year and we are dealing with it very seriously.
"Any potential metal thief should know that all our property is marked with SmartWater and this includes our buildings, our computers, our equipment, machinery and tools."