Newport shooting: 'Lack of support' for gunman's son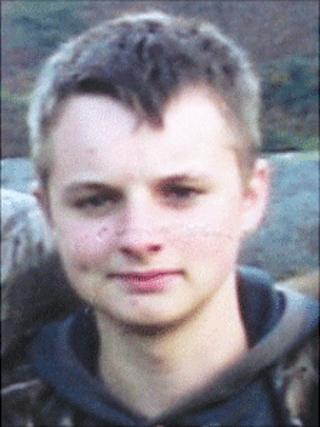 A politician has questioned whether a teenager found dead a month after his father shot his mother and killed himself had been given enough support.
Darren Williams attacked his estranged wife Rachel at a hair salon in Newport in August. Jack Williams, 16, was found hanged in the same woods as his father.
Jocelyn Davies AM has called on the Children's Commissioner for Wales to investigate the case.
Local council, health and police bodies said they could not comment.
Ms Davies, Plaid Cymru AM for South Wales East, told BBC Wales' Week In Week Out programme Jack's death raised serious questions about whether he was given enough support by social services and the NHS in the weeks before his death.
Darren Williams, 45, had shot at Mrs Williams at her place of work, Carol Ann Hair Salon, seriously injuring her knee and also hurting two other customers.
He went on the run and was found several hours later hanging in Brynglas Woods by Gwent Police officers.
A few days later Jack cut his wrists and was taken to hospital. After being discharged he was offered counselling and was visited by a social worker from Newport council.
His case was closed two weeks later. His family told the programme they believed that decision was wrong.
Ms Davies said: "There's somebody who's vulnerable and who needs immediate emotional and practical support.
"Definitely intervention needed for that young man. He harmed himself; that's a big, big alarm call I think for anybody that things are not well with this person, and how could they be under those circumstances?
"It would have been impossible for him to be coping well.
"I hope that the Children's Commissioner will also be prepared to take a very close look at this because we can't just say well that was a tragedy for that family but ultimately this is a tragedy for all of us and a failure of all of us."
Mrs Williams, who is still recovering from reconstructive surgery to her leg and extensive head injuries, said she had suffered years of domestic abuse from her husband.
She believes if he had not been granted bail after an alleged assault on her, the shooting would not have happened.
Mr Williams' family said he had made a number of attempts to kill himself before that day and that alarm bells should have rung,
His stepfather Bill Smillie said the authorities had not fully recognised the distress he was in and had not communicated with one another.
"What are the channels for communicating so that a high risk case suddenly comes to the fore and gets flagged up for everyone?"
Jack's aunt, Rachael Williams, had cared for him while his mother was in hospital. She said Jack had been let down, adding: "All these things have happened to him in a matter of weeks. You know it should have been ongoing support for Jack."
Inquests into both deaths have been opened and adjourned.
Newport council said it could not comment because it had launched a Serious Case Review to examine the role of all the agencies who had worked with Jack and the family.
The Aneurin Bevan Health Board said it did not comment on individual cases, while Gwent Police said ongoing enquiries prevented them from speaking.
The Independent Police Complaints Commission is investigating contact between Darren Williams and Gwent Police prior to his death.
Week In Week Out is broadcast on Tuesday at 22:35 GMT on BBC One Wales.