Ballet dancer Jack Widdowson critical after attack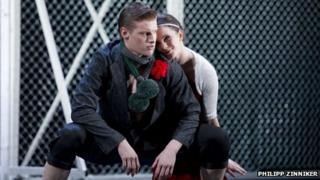 A teenage ballet dancer is "fighting for his life" in hospital after he was assaulted by a man in Cardiff.
His father told a police news conference that the unprovoked attack on Jack Widdowson was "appalling" and "mindless".
The 19-year-old from Bath was visiting his brother at Cardiff University when he was robbed early on Saturday.
Dr Julian Widdowson described him as a "strong" person who survived bacterial meningitis three years ago.
South Wales Police are appealing for witnesses after the attack.
They want to trace a man seen wearing a white-striped polo T-shirt with a dark-coloured motif on the left breast.
The attacker began walking with Mr Widdowson - an apprentice dancer at Bern: Ballett, based at the Stadttheater Bern in Switzerland - in the Bute Terrace area at about 00:45 GMT on Saturday.
Detectives said Mr Widdowson suffered a serious neck injury during the attack on a towpath near a disused canal parallel with Tyndall Street, and had his property, including his iPhone, stolen.
He was found unconscious in the street shortly after 02:00 GMT and taken to University Hospital of Wales, where his family have been at his bedside.
Mr Widdowson was described by police as one of the youngest ever members of the Bern-based ballet company.
Two days earlier he had appeared in a leading role in the premiere of the company's production Ein Winternachtstraum, inspired by Shakespeare's Midsummer Night's Dream.
'Unprovoked, mindless'
His family, including his Cardiff-born father, were in the audience.
Reading out a family statement after visiting his son in hospital, Dr Widdowson said: "We are all appalled by this unprovoked, mindless violent attack in this great city where I was born."
Dr Widdowson, who was joined by Jack's sister Chloe, 23, and brother Mark, 21, talked of his son as "a very entertaining person" with "a polite and easy manner" and "a great sense of humour".
He said Jack had always been a good sportsman and represented his school in hockey and rugby.
He continued: "Jack has always been physically, mentally and emotionally strong which enabled him to pursue a career in dance, and also to survive a near fatal episode of bacterial meningitis three years ago and then make a complete recovery, persevering with a punishing programme of rehabilitation exercises.
"We were so proud to see him perform in the premiere last Thursday."
'Shocked and upset'
Dr Widdowson said the family had received good wishes and support from across the world.
"This is a huge comfort to Jack and all the family as Jack fights for his life," he said.
Bern:Ballett director and choreographer Cathy Marston said Mr Widdowson had joined the company in August from the London Contemporary Dance School where he had been on post-graduate course in performance.
She said: "The dancers of the company are shocked and upset - Jack is a much loved, funny and kind colleague.
"His creativity and dedication are inspiring to all around him and he is very hungry to learn from the experienced dancers around him.
'Difficult time'
"I am devastated that such a talent may not be able to develop.
"We are hopeful though, that his determination to recover will bring him back to us in due course."
South Wales Police Det Insp Shane Ahmed said: "This incident is appalling and a full investigation is under way to catch the person responsible.
"Our thoughts are with the family of the victim, who are being supported by a trained family liaison officer at this difficult time.
"Although the assault happened during the early hours of the morning, there may have been a number of people out, on their way to or from Cardiff city centre and we're appealing for anyone with information to come forward."
The man wanted in connection with the attack was described as mixed race, and was wearing a white-striped polo t-shirt with a dark coloured motif on the left breast, blue jeans and white trainers.
Police ask that anyone with information contact Cardiff Central CID on 02920 527420, or 101, or Crimestoppers on 0800 555111.