Cinema plan for Penarth pier pavilion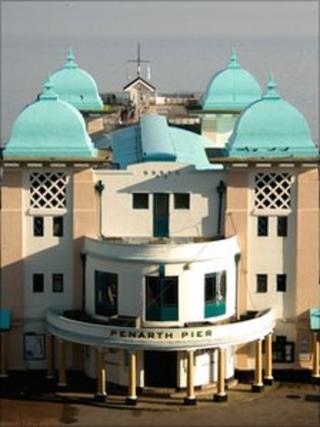 Redevelopment of the pier pavilion in the Vale of Glamorgan town of Penarth should see a small cinema open on the site, project staff hope.
Plans for the £3.9m redevelopment of the Victorian building received a £700,000m boost last month from the Community Asset Transfer programme,.
That is on top of a £1.68m Heritage Lottery Fund grant and £100,000 from the Vale of Glamorgan council.
The pavilion has hosted a cinema before during its varied 117-year history.
The project envisages a cinema, lecture theatre and cafe on the building's first floor, while volunteer organisations including Coastwatch, wildlife sanctuaries and the RSPB will be based at the centre downstairs.
Nature lovers will be able to watch birds and wildlife from a new observation post, and cameras set in the Bristol Channel will beam live images to it.
The people behind the project, Penarth Arts and Craft Ltd, hope the cinema will cater to a wide range of tastes.
A cinema opening on the site would buck the trend of recent years, which has seen a host of independent screens across the region closing down.
Cardiff lost the Monico in Rhiwbina in 2003 and the Globe in Roath, while Barry's Theatre Royal shut down in 2008 despite a campaign to keep it open.
Project director Maggie Knight said the project team had talked to Chapter Arts Centre in Cardiff about the cinema and they had agreed to handle distribution of the films shown at the new venue.
"It should be led by the public," she told the BBC Wales News website.
"There are two film groups here who want to get involved. It would be nice to show some foreign films, some Welsh language films, Saturday afternoon films for the family.
"We need people who are interested in it, because it's the people who are involved who will make it."
The redevelopment is aiming to be as sustainable as possible, and Ms Knight said they were hoping to source seats that had already been used in other cinemas.
A survey of the building is being carried out at the moment to see how the plans will work in practice, and they hope to start clearing out rubbish and old equipment soon.
Ms Knight said they were aiming for the design team to start work next spring.