M5 crash: Fears Newport couple involved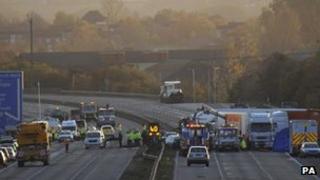 It is feared a retired couple from south Wales are among those involved in the 34-vehicle pile-up on the M5 in which seven people died.
Police have not confirmed the identities of those who died or were injured in the collision close to junction 25 near Taunton.
However, prayers were said at a church in Newport on Sunday for local couple Anthony and Pamela Adams.
A local councillor confirmed they were believed to have been involved.
Coun Les Knight told BBC Wales prayers were said for Mr and Mrs Adams at St Mark's Church where they were both active members.
According to the Independent on Sunday, the couple were returning home after visiting their daughter Tonia White in Taunton.
Wet and foggy
Mrs White told the newspaper that her family was frantic for news about them.
"They would have hit that stretch of the motorway about the time of the accident," she said.
"I've been trying to ring them all night. We've been in touch with other family members but nobody's been able to contact them at all today," she told the newspaper.
As well as seven deaths, the pile-up on Friday night left 51 people injured.
The cause of the crash is not clear but the road was wet and foggy in patches. Officers are examining whether fog or smoke from a nearby bonfire and fireworks event may have been a factor.
'Massive fireball'
Avon and Somerset Police said on Sunday morning all vehicles had been removed from the site and their "worst fears have not been realised".
Police said the pile-up, which happened on the northbound carriageway at about 20:30 GMT, had led to a "massive fireball" at the scene.
Assistant Chief Constable Anthony Bangham said: "Overnight all the vehicles involved in this tragic incident have been removed from the scene.
"Our worst fears have not been realised and the number of those that sadly lost their lives remains at seven.
"Extensive work has been carried out to identify those people and families are being appointed family liaison officers to support them.
"Formal identification has not taken place - this will happen in the coming days."
A spokesman for the Highways Agency has told the BBC that they hope to have the southbound carriageway on the M5 around Junction 25 open by 17:00 GMT on Sunday.
Repair work on the northbound carriageway means that this will be closed until at least Monday.
People concerned about relatives should call the emergency helpline on 0800 0920410.