Abercynon Green Valley scoops National Lottery award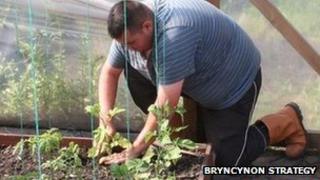 A Cynon Valley community garden developed out of a derelict overgrown wilderness has been crowned the UK's top green scheme.
The Green Valley Centre in Abercynon won the best environment category at the National Lottery Awards in London.
The land was transformed with more than £260,000 of lottery money, and the centre won for its work engaging young people.
The chair of the group which runs the centre said he was "over the moon".
The favourite lottery-funded projects were unveiled at a ceremony in London on Saturday.
They highlight the difference the projects make to their communities and celebrate the achievements of the unsung heroes behind them.
Winners in each of the seven categories emerged following tough competition in which thousands of votes were cast by the public.
Coun Alby Davies, chairman of Bryncynon Strategy which runs the Green Valley Centre, said: "The land next to Y Parc in Abercynon was overgrown and it was offered to us to develop about five or six years ago," he said.
'Absolute honour'
"We now have a food market and a food box scheme and all the planting weeding is done by local youngsters.
"The scheme has had a huge impact in a deprived area of Abercynon and we're proud of what's been achieved.
"I'm over the moon we've won the award and I'm over the moon for the youngsters."
The Green Centre's Michelle Lenton-Johnson said: "It is an absolute honour to win this award and a real boost for everyone involved to receive national recognition for their hard work and dedication."
The centre received £266,541 of lottery funding from the Big Lottery Fund to develop its garden about five years ago.
National Lottery Awards said the Green Valley Centre took the derelict land and turned it into "a green oasis for all to enjoy".
Healthy eating
"Where the riverbanks had knotweed and litter, they now have otters and kingfishers," said a spokesperson.
"The two-acre garden is used to produce food boxes for some of the most vulnerable people locally, with fresh, affordable food going to people on low incomes, helping to teach about healthy eating.
"This community green space offers practical training and qualifications for young people, building their skills, fitness and confidence, and acts as a training facility for a range of people."
Last year, Bryncynon Strategy set up an environmental taskforce to work with community organisations and residents to tackle litter and fly tipping problems.