Bus-rail link between Ebbw Vale and Newport returns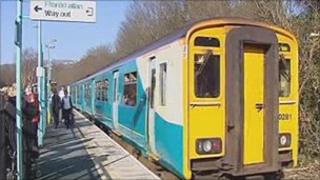 A subsidised express bus linking the Ebbw Vale to Cardiff rail line with Newport is being re-introduced three years after a previous service ended.
It will connect with trains at Rogerstone and run every hour.
There have been longstanding calls to improve rail services between Newport and Ebbw Vale.
The Welsh government, which will initially fund the bus for a year, said it was the first step in improving transport links between the two towns.
A previous bus service on the route was scrapped in 2008 because of a lack of passengers.
Local Government Minister Carl Sargeant said the new bus service would be piloted for a year.
"As a result of recent collaboration with Newport council, I'm pleased to confirm my support for . . . the new trial service," he said.
"I see this as the first step towards improving rail services between Ebbw Vale and Newport.
"I welcome Newport's implementation of the trial express service to cater for demand and look forward to it being successful."
Passengers on the new service will be able but rail tickets on the bus and Arriva Trains Wales will sell through tickets to Newport.
It is expected the journey time will be around 16 minutes.
Well publicised
Newport council leader Matthew Evans said: "We would welcome this as a first initial step being taken to improve the rail link between Ebbw Vale and Newport.
"Following a successful pilot of this link, Newport city council has been assured by the Welsh government that the next step of opening the rail link between the two areas will be fully considered.
"The council will continue to campaign vigorously for this to happen as however welcome a new express bus route is, it is clearly not a long term substitute for a rail service."
William Graham, Conservative AM for South Wales East, who has been campaigning for a rail link between Ebbw Vale and Newport, said it was desperately needed to help regenerate Newport city centre.
"Any improved transport link is to be be welcomed but it is not a substitute for the railway line," he added.
"It must be well publicised unlike the previous service."