War memorials unveiled at Ynysangharad Park, Pontypridd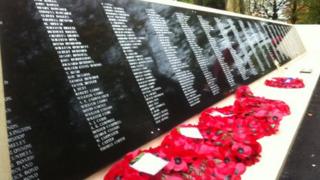 Two new war memorials haven been unveiled in Pontypridd with the names of 1,319 local people.
The roll of honour memorial walls at Ynysangharad War Memorial Park pay tribute to victims of both world wars and more recent conflicts.
The names are inscribed on black granite plaques on Portland stone, and will sit alongside two existing monuments in the park.
Rhondda Cynon Taf mayor Sylvia Jones called it a historic day for the area.
'Emotional'
The memorials - costing an estimated £80,000 - were completed following fundraising appeals.
They honour war dead from the former Pontypridd urban district and current town council boundaries.
Before the unveiling, Ms Jones said: "This will be an historic day in the history of Pontypridd and the county borough as we unveil the two memorial walls naming those who gave their lives for our freedom.
"The ceremony will of course be an emotional one as we pay tribute to those gallant heroes of both world wars and subsequent conflicts involving the British services."
Compiled using existing records and local knowledge, the memorials include the names of 821 people who died in World War I and 491 from World War II.
One victim is also included from each of the conflicts in Palestine, Korea and Suez, as well as four men killed in the Falklands.
The list was completed by RCT council, Pontypridd Town Council and the Royal British Legion.
Stan Power, secretary of the Pontypridd and Rhondda County of the Royal British Legion, added: "It is so important that the names of those who gave so much are not forgotten and the memorial will embellish Ynysangharad Park's status as a war memorial park."