Tributes to Scapa Flow diver Stuart MacCormac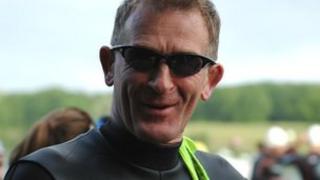 Tributes have been paid to a diver who died while exploring a scuttled German wreck at Scapa Flow in Orkney on Sunday.
Management consultant Stuart MacCormac, 53, from Cardiff, was airlifted to Balfour Hospital in Kirkwall but was pronounced dead.
Mr MacCormac's employers Atkins Global Engineering described him as a "truly lovely guy".
Friends said he was a "proper gentleman in every sense".
A keen sportsman, Mr MacCormac was one of the founding members of Cardiff Triathletes club in the 1980s.
Friend Chris Goulden said on the club's website: "With this enthusiasm and drive it's not surprising to know that he became one of the founding members of Cardiff Tri club.
'Most beautiful of families'
"Stu has remained loyal to Cardiff Tri ever since going through lots of roles including chairing and regularly helping out with coaching."
He added: "Stu will be hugely missed by swimmers, runners, cyclists, triathletes, rugby and judo players and many other sports men and women alike.
"He was a real doer, an action man in the fullest possible way. He leaves behind the most beautiful of families and I'm sure your thoughts like mine go out to his wife Denise, mum, dad, brother and children.
"I'm proud to say that Stu was my mate and will be forever. God bless you Stu."
Geoff Kneen, managing director of Atkins' management consultancy, said: "We were very sad to hear the news that Stuart MacCormac passed away tragically in a diving accident last weekend.
"Stuart was well known and well liked across our business, a truly lovely guy who we will all miss.
"We have been in contact with his family and they are at the forefront of our thoughts and we will be offering them our full support at this incredibly difficult time."
Scapa Flow lagoon is popular with divers because of the number of wrecks hidden beneath its waters.
It was the main anchorage of the Royal Navy and has many relics from British naval history.
In June 1919 the interned German navy scuttled most of its high seas fleet there to prevent ships from falling into Allied hands. Eight of the vessels remain there.
Earlier this week, Northern Constabulary confirmed it had submitted a report on Mr MacCormac's death to the procurator fiscal.