Glamorgan student Antos Kasprzyk helps discover a comet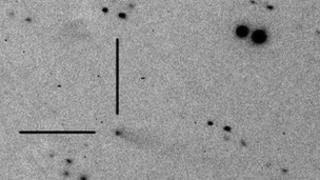 An astronomy student at the University of Glamorgan helped discover a comet which shares Jupiter's orbit.
It comes after a sixth form student on work experience this summer helped discover 22 new asteroids between Mars and Jupiter.
In the latest discovery, second year undergraduate Antos Kasprzyk was able to make sense of the unusual object spotted by an astronomer from America.
"It is amazing I have been involved in such a discovery," he said.
In August, Hannah Blyth, 18, from Castleton, near Newport, was using a remote-controlled telescope to stare into the night sky.
She helped spot the new asteroids as part of a team led by Nick Howes of the Faulkes Telescope Project at the university.
Mr Howes, working with Italian amateurs Giovanni Sostero and Ernesto Guido, is leading a programme of asteroid and comet observations, following up new discoveries using remote-controlled telescopes in Hawaii and Australia.
'Terrific'
This time the team followed-up the observations of an unusual object in the distant night's sky with BSc observational astronomy student Mr Kasprzyk using the telescope in Australia to take a closer look.
He said: "A preliminary orbit immediately showed that this was a highly unusual object, but it was only when we saw the processed images from my observations that its true nature became clear."
Originally thought to be a Jupiter Trojan asteroid - a rocky object that is trapped in an orbit that leaves it trailing behind the giant gas planet - the Faulkes images revealed a fuzzy cloud called a 'coma' surrounding the object, along with clear signs of a tail, revealing it was a comet.
It has now been named Comet P/2010 TO20 (LINEAR-GRAUER).
Mr Howes said: "When we first saw the preliminary orbit, we knew it was a quite remarkable object - and to have a university student involved is terrific for the degree programme at Glamorgan and also for the Faulkes project.
"We're immensely proud to be part of the announcement released by the International Astronomical Union confirming its nature."
The Faulkes team, and the Glamorgan undergraduates, will continue to study the comet over the coming years, charting its slow progress around the Sun.