Aamir Siddiqi murder: Ben Hope 'kept cash in envelope'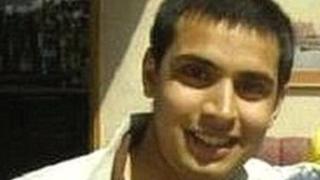 A man accused of stabbing a teenager to death in a blundered contract killing carried his £1,000 "blood money" in an envelope while shopping, a court heard.
Aamir Siddiqi, 17, was attacked by mistake on the doorstep of his family's home in Roath on 11 April last year, Cardiff Crown Court has heard.
Accused Ben Hope, 38, went shopping for trainers two hours after carrying out the murder, the prosecution claims.
Mr Hope and Jason Richards, 37, both deny murder. The trial continues.
The jury were played CCTV footage said to be of the defendant buying the trainers, socks and a wallet at Cardiff's Foot Locker store in Queen Street.
Giving evidence on Monday, store manager Andrew Webb said he remembered serving Mr Hope that day because of the way he paid for his purchases.
Mr Webb said: "He bought a pair of Nike Air Max Skyline trainers, a pair of socks and a Nike wallet.
"I remember the transaction because he had a white envelope which was full of money.
"It looked like there were a lot of £20 notes - around £1,000 in all.
'Stolen car'
"It's not very often I had seen something like that. It's very rare."
Mr Webb said he also remembered the transaction because the store did not often sell wallets.
A receipt later found at the defendant's address matched the store's records, he confirmed.
The court was also shown CCTV footage of a stolen Volvo XC90 being driven around Cardiff city centre in the days before the fatal attack in Aamir.
The jury had previously heard evidence from Gareth Williams, who lived in a nearby street, who said he saw a similar vehicle drive away at high speed near the teenager's home at around the time of the stabbing.
Previously, Patrick Harrington QC told the court that Mr Hope and Mr Richards had each been paid £1,000 "blood money" to carry out a hit on a man named Mohammed Tanhai, who lived in a similar red-brick home to the Siddiqi family.
'Howled like animals'
An alleged criminal named Mohammed Ali Ege, 32, has been accused of ordering Mr Tanhai's killing for the non-return of a £50,000 deposit on a house.
Mr Hope and Mr Richards, both from Cardiff, were said to have been so drugged up at the time they targeted the wrong house by mistake.
Aamir answered the door that day as he had been expecting his Koran teacher to arrive for a home lesson, but saw two masked men at the door instead.
The court heard his alleged killers howled like animals as they lashed out at the teenager with silver daggers.
His father Iqbal, 68, and mother Parveen, 55, rushed to their son's aid before being injured themselves.
The trial continues.