South Wales Police back fingerprinting for clubbers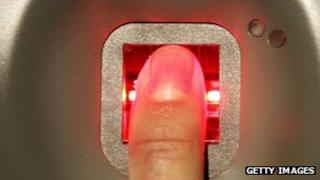 Police are encouraging nightclubs to use digital technology such as scanning people's fingerprints to help tackle problems with revellers.
One Cardiff nightspot uses such a system already and police will host a demonstration next week to persuade more licensed premises to sign up.
Nick Newman, of Cardiff Licensees Forum, said: "I'm expecting quite a few more to invest in it".
But one leading city councillor said it raised issues over civil liberties.
Customers at the Ladybird Lounge in Mill Lane are among the first in Cardiff to use a new technology which scans their driving licence or passport.
Clubbers also have the option of having their fingerprint scanned so they do not need to produce identification documents in future.
With the customers' permission, the information can also be used for marketing purposes by the venue.
Owner Gianluca Malacrino said the system, which checks the details in the ID document's microchip, had detected half a dozen fake IDs since he began using it eight weeks ago.
Customers are told their document details would be shared with police, on request, but not the fingerprint scan.
He said the majority of customers were happy to have their fingerprints scanned and their photograph taken for easier access at a later date.
He said: "I'm looking to work with the police in all circumstances.
"If all the venues in Cardiff did it, it would be a very good thing. It would reduce the level of crime without a shadow of a doubt.
'Many benefits'
"If you are in town in a night out and you mess up, you could be banned from every club in Cardiff. It would definitely put me off."
Mr Newman, whose forum represents about 100 premises in the city, said the benefits of digital ID scheme were "many and varied".
In addition to identifying fake identify documents, information could be shared between venues about people who have been banned, he said.
He said: "Commercially, you benefit from a reduction in people trying to get in underage, if they are using someone else's ID.
"As word spreads, people will know they are easily identified if they are associated with an incident of disorder.
"If you have less trouble, that's good for business."
South Wales Police have said they may consider requesting such systems as a licensing condition for some venues in future.
However, Ed Bridges, who chairs Cardiff council's licensing and public protection committee, said this raised civil liberties questions.
He said: "Clubs can of course introduce these sorts of systems if they want to, that's a commercial decision on their part, but I don't believe a system like this should be mandatory.
"I don't think South Wales Police should request it as a licensing condition."
South Wales Police licensing officer Sgt Scott Lloyd said: "By scanning identification, such as driving licences and passports, these systems can contribute to reducing and detecting crime by, for example, changing the mindset of potential troublemakers entering a venue, preventing underage drinking, and identifying offenders.
"These systems just like CCTV, road closures, and targeted policing are just one of many tools available to keep Cardiff safe.
"If appropriate, South Wales Police will consider requesting such systems are a condition for any new licence application or where a premises licence is up for review."