Caerphilly roadworks: MP urges council to ease disruption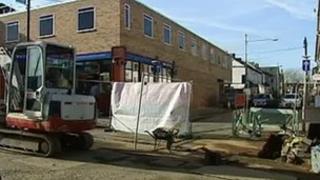 An MP has urged a council to speed up town centre road works causing disruption to market traders, or else postpone them until after Christmas.
Wayne David has claimed Caerphilly's "lifeblood" is being drained away by the gas works in the town which are expected to continue through November.
He said Wales and West Utilities (WWU) were "sympathetic" to local feeling but the council set the works timetable.
Caerphilly council's leader has been asked to comment.
Essential works have forced the closure of Cardiff Road as ageing metal gas pipes under the road and pavements are being replaced by safer plastic pipes.
Stallholders claim takings have plummeted since the maintenance work began, while the market owners have dropped rents to help them survive.
WWU have said they were doing their best to minimise disruption, with work due to be completed by the end of November.
Speaking after a public meeting at Neuadd-y-Parc Hall, attended by traders and residents as well as three WWU representatives, Mr David said he had been asked to approach the council to press for a change of timetable.
He said local people wanted the works either speeded up so they finished before 1 December, or split in to two phases, with the remainder completed after the Christmas period.
Mr David said: "The point the traders were making was that the run-up to Christmas begins well before 1 December.
"They are saying that normally their trade would start to be increasing by now. Potentially they have got more weeks to lose, so it's very serious for them.
"I just can't understand how the council can make assumptions that they know what is best in these matters.
"Wales and West has some experience in these matters but they rely on a local authority coming forward with sensible timescales."
Mr David said he would contact the local authority on Monday morning.
Caerphilly council leader Allan Pritchard has been asked to comment.