Aamir Siddiqi case: Police preserved murder scene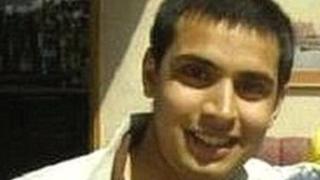 A detective has insisted police carried out proper procedures to preserve forensic evidence after a schoolboy was stabbed to death by two alleged hitmen.
When officers arrived at Aamir Siddiqi's house the 17-year-old was still at the scene.
He had been killed by two masked men who called at the property in Cardiff.
The prosecution case is Ben Hope, 38, and Jason Richards, 37, had turned up at the wrong address but they deny murder at Cardiff Crown Court.
The jury has heard claims the pair were each paid £1,000 "blood money" to carry out a hit on a man named Mohammed Tanhai, who lived in a similar red brick home to the Siddiqi family.
The court has heard claims a man called Mohammed Ali Age, 32, has been accused of ordering Mr Tanhai's killing for the non-return of a £50,000 deposit on a house.
The prosecution allege that Mr Hope and Mr Richards had taken so much drugs they targeted the wrong address on 11 April last year.
On Thursday the jury heard evidence from Det Sgt Stuart Wales, of South Wales Police, who attended the scene shortly after the stabbing.
'Preservation of life'
Mr Wales said a police cordon was put in place at the door to Aamir's parents' home in the Roath area of the city from the moment officers arrived at the scene.
He said the reason for doing this, rather than placing one at the garden gate, was because to begin with the main priority was "preservation of life".
Sgt Wales added that he did not want a cordon at the gate at that point in case it hampered paramedics taking Aamir to the ambulance.
He stressed those entering and leaving the house had their names and identities noted down in a crime scene log by an officer guarding the door.
A court heard this was done so people not the focus of the police's investigation, such as paramedics and Aamir's family, could be forensically accounted for.
After Aamir had been taken to hospital, police later moved the first cordon down to the gate of the property, with the road outside and a number of lanes also closed off.