Punk rock: Anarchy in the UK tribute tour in Caerphilly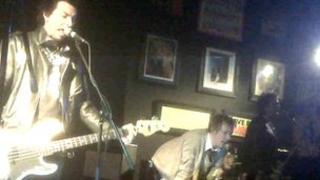 A 35th anniversary recreation of a controversial punk concert leaves BBC Wales' Nick Horton feeling nostalgic, not too embarrassed, and with gratifying ringing in the ears.
One of the posters at the back of the Caerphilly Workingmen's Hall read: "Punk's not dead".
Well, maybe not. But like many of the 150 or so who dragged our aching bones out for this gentle jog - it's the liveliest exertion most of us can manage - down a rowdy memory lane, it's certainly showing its age.
Here's why we were there: in winter 1976, Caerphilly was the south Wales destination for the Anarchy in the UK tour, headlined by the Sex Pistols, and including The Clash, and Johnny Thunders and the Heartbreakers.
But this was no ordinary rock show. The Pistols, having recently sworn on tea-time telly, were at the height of their notoriety, many of the tour dates were cancelled, and protesters gathered to sing carols and pray for the misguided souls inside the town's Castle Cinema.
Only a few dozen were in the venue. But, like many of these infamous gigs, hundreds subsequently claimed to have pogoed the Caerphilly night away.
Mostly male
For 14-year-olds like me the 1976 gig had come a few months too soon, when this noisy musical fad was just a weird London obsession splashed over the tabloids, and Eddie and the Hot Rods were the nearest thing to punk I'd ever heard. And anyway, it was in the neighbouring valley, and therefore a million miles away.
Forward 35 years, and the 2011 version was the nearest we oldies were going to get to reliving something we never saw. Of course, they weren't the original bands, by virtue of many of their members unfortunately being dead.
But still. Here at least was one original: Billy Rath, the Heartbreakers' bassist, looking every inch the man who has enjoyed a full rock 'n' roll lifestyle, in his own tribute band, the Broken Hearts. After a classically chaotic start in the punk spirit, when Rath couldn't get his bass to emit a sound, they faithfully recreated the meat and potatoes cheap thrills the Heartbreakers imported from New York.
One rule of music writing always used to be: don't review the audience. But it's unavoidable in this case, because the crowd were integral to the show. Punk always was a mostly male preserve, and so it proved again in Caerphilly.
Leather-jacketed MC
Just like ye olden days, a bunch of boisterous blokes jumped around in front of the stage. While they included a few mohican-wearing twenty-somethings, they looked mostly middle-aged, portly and shiny-headed - yup, that'll be me, then - and you had to be brave to risk venturing into this anarchic moshpit. And, nope, that wasn't me.
One disappointment was the non-appearance of Ray Davies - no, not that one, Kinks fans - but the radical local councillor who had been among the 1976 protesters. But he later changed his mind, deciding he had no right to tell young people how to have fun, and had been due on stage to introduce the 2011 night.
But the leather-jacketed MC told us that Mr Davies couldn't make it. And again with real punk ethos, he started to explain the context of the show, before admitting he couldn't be bothered and made way for the bands.
Then came the undoubted highlight: Rebel Truce, the Clash tribute band. Until a few years ago I wouldn't have dreamed of going to see them out of embarrassment at trying to relive a long-gone past.
Pedantic punk historians
But thankfully I've cleared the shame hurdle, and Rebel Truce are everything you want from a tribute band. They play almost all the greatest songs - although with The Clash you'd need hours just to scratch the surface of their classic material - and manage to look and sound like them without descending into pastiche.
Which is more than you can say for the Sex Pistols Experience, the headline act. They were a faithful facsimile of the Pistols, with an uncannily accurate Johnny Rotten in his pre-butter salesman and I'm a Celebrity, Get Me Out of Here days, sneering: "Welcome to Cardiff's car park".
The Sid Vicious-alike was equally impressive, even mock-threatening to bash a fan with his bass at one point, although pedantic punk historians among us will point out that he never appeared at Caerphilly, when his Beatles-loving predecessor Glen Matlock was still in the band.
As powerful as they were, the Sex Pistols Experience came over as more of a cabaret act, emphasising why they were ultimately usurped by The Clash as the punk band who really mattered.
But reviewing the music on a night like this is, frankly, a little pointless. It was all about being there, and going home with a gratifying ringing in the ears from standing close to the speakers. Not too close these days, mind.
As someone who had notched up pretentious middle-class brownie points earlier in the day by searching for balsamic glaze and sour dough bread in Waitrose, it was a little unsettling to be thrown back to my O-level era.
Particularly as these days a wild time in my book amounts to searching B&Q for an allen key in the UK. OK, not my joke, but one I can't resist stealing.
Thankfully, the club had comfy seats to rest my weary limbs, and it was over not long after midnight. So punk's not dead. But punk is mostly for dads these days, just as it should be.