Police patrol Cardiff school after parents' yard fight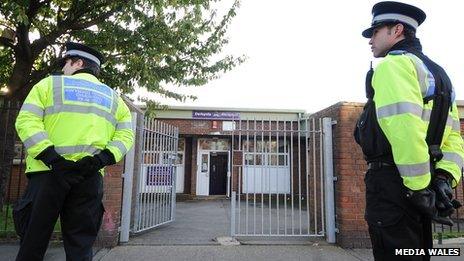 Police are mounting daily patrols outside a Cardiff primary school after parents fought in the playground, and manhandled and threatened staff.
Police said community support officers have attended Ysgol Glan Morfa school in Splott all week.
Head teacher Sian Wyn Thomas said in a letter that all parents have been banned from the yard due to the behaviour of "a small minority".
Cardiff council said pupils were being escorted into school each day by staff.
One parent told BBC Wales of problems of ongoing bad language being exchanged and a fight, with bicycles being thrown.
In her letter to parents, dated 17 October, Mrs Wyn Thomas wrote: "We have had some unpleasant incidents involving foul language and aggression by a small minority of parents and carers recently at the school.
"Last Friday was the worst so far, with two families fighting on the schoolyard."
Mrs Wyn Thomas added that as a result of a decision to allow only children into the yard "staff were threatened and physically manhandled by parents".
She continued: "Because of this we will have to continue to prevent parents from entering the yard until such time as this behaviour by the small minority of parents ceases permanently."
In a statement, South Wales Police confirmed their officers were patrolling twice a day at the school.
"Following concerns raised by the school regarding anti-social behaviour by parents, PCSOs have been in attendance at the beginning and end of the school day to prevent breaches of the peace and provide reassurance," the force said.
A Cardiff council spokesperson said: "Following an incident at Ysgol Glan Morfa to which police were called when a small number of parents behaved disruptively and used inappropriate language, letters were sent to parents to advise them that in order to ensure the safety of everyone at the school, children should be left at the school gate and escorted into the building by staff."
The Welsh-language school has 434 pupils, aged from three to 11.
Related Internet Links
The BBC is not responsible for the content of external sites.