Assembly gas drilling guidance call over Vale rejection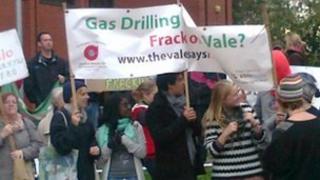 More guidance is needed from the Welsh government over the decision whether to allow test drilling for shale gas, says a council leader.
Vale of Glamorgan leader Gordon Kemp spoke after the council unanimously rejected an application for drilling at a site in Llandow.
The council said Welsh Water concerns about pollution of its reserve groundwater sites swayed the decision.
The Welsh government called for a UK government policy on shale gas.
Bridgend-based Coastal Oil and Gas Limited has said it will appeal against the council's rejection on Thursday night.
Mr Kemp told BBC Radio Wales: "There was a lot of public opposition to it and councillors took that into account. They also had concerns about the application itself.
"The committee weren't satisfied the applicants had put enough information in regarding ground water supplies.
"In any situation where there's doubt the decision to reject was probably the correct one."
Mr Kemp said he had been keen throughout the application process to receive guidance from the Welsh government, and had written to the first minister.
"This is not the best way of getting [the matter] considered by the assembly. It's an ad hoc thing as it were. It will be based on an appeal. I'd have preferred them to have made a decision themselves from day on on it."
He denied that the council was out of its depth on the matter.
"The difficulty is we have no proper guidance from the assembly on this. The assembly has... there are mineral policies but I don't think they cover a situation such as this.
"This is why I have been calling both the assembly to determine matters such as this and also come up with some guidance."
The Welsh government said there was a need to look at both the potential of gas exploration, but also concerns about the potential impacts of this form of gas extraction.
"We would welcome the UK government working with devolved administrations across the UK to put in place a robust and evidence based policy framework for shale gas in the UK," said a spokesperson.
'Small risk'
"The case for a moratorium on shale gas rests with the UK government, who are the licensing agents for exploration."
In its letter Welsh Water said it believed there was "a very small risk" of contamination of its reserve groundwater sites from the proposed exploratory drilling.
But it added: "If there is an excessive loss of drilling fluid to the aquifer during the drilling procedure due to unforeseen geological features being met, then this level of risk increases."
Clifford Patten, planning consultant for Coastal Oil and Gas Limited, said he was "very surprised" that Welsh Water considered there could be a risk.
"I was at a meeting with them on Monday where they said the only ground water interest they would have would be around... the Ewenny, Ogmore-by-Sea area.
"Surface water is an issue for Environment Agency."
Fracking
The application was opposed by The Vale Says No campaign group whose members had campaigned in Barry, where the council met.
The group had expressed concerns about an element of drilling for shale gas called hydraulic fracturing, or fracking.
It involves the high-pressure fracturing of rocks such as shale with a mixture of water, sand and chemicals.
It is a process which has been condemned in several US states.
In Europe, France has banned fracking after 100,000 people signed a petition, though the Polish government has been more supportive of using shale gas as an energy source.
Investigated
Campaigners from The Vale Says No had claimed that gas drilling, especially shale gas drilling, could be "potentially catastrophic" and would shatter the peace of a rural area.
The side effects of fracking are still being investigated after two earth tremors near Blackpool last summer.
Gas drilling in that part of Lancashire has been suspended. Concerns are on contaminating any underground water, and which chemicals are pumped at high pressure to release shale gas.
Coast Oil and Gas had said the plan for the Vale was still at the exploration stage and the firm had no intention of fracking in the near future.
He said the potential in terms of energy security and local jobs was considerable.
In July shadow UK energy minister Huw Irranca-Davies called for the UK government to embed shale gas in its wider energy policy.
The Ogmore MP said with the decline in North Sea gas and the UK's increasing reliance on imported gas, it could have potential.
He said if extracted properly, shale gas could be a source of cheap affordable gas and be part of the UK's low carbon future.