300 ex-workers at Phurnacite plant start legal fight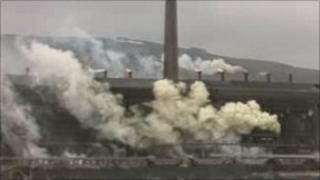 A total of 300 former workers at a smokeless fuel plant in Rhondda Cynon Taff have started a joint compensation claim for ill health.
The men claim making the fuel left them with cancer and respiratory disease at the Phurnacite plant at Abercwmboi near Mountain Ash.
They say British Coal failed to provide the necessary protection for them.
The Department of Energy and Climate Change is opposing the claim at the Civil Justice Centre in Cardiff.
It is thought this will be one of the last large mining-related compensation cases to be held by the courts
The former workers are bringing a group action, saying they were not given the necessary protection from fumes and dust.
And they claim that when they were given protection it was not sufficient.
The site produced smokeless fuel in the form of briquettes for 50 years. At its peak over one million briquettes were produced a year.
The court has heard that the plant used pitch, which was different to other coking plants.
It has also been told that carbonisation happened over a four-hour period, 24 hours a day, whereas at other plants one cycle was carried out in a 24 hour period.
The case will hear from one expert who believes that a year's work at the plant was equivalent to a year's smoking.
The Department of Energy and Climate Change (DECC), which has responsibility for British Coal, is defending the claim.
The case is expected to last six weeks.