Brofiscin Quarry waste clean-up starts near Llantrisant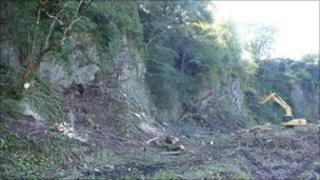 Work is starting on a £1.1m clean-up of a quarry in Rhondda Cynon Taf that was used as a waste tip during the 1960s.
Industrial waste, including solvents, heavy metals and toxic PCBs were dumped at Brofiscin Quarry, near Groesfaen, Llantrisant.
Environment Agency Wales said the work would reduce water pollution and stop people and animals coming into contact with the waste.
The clean-up is expected to take around 14 weeks to complete.
A report in July 2007 found the quarry posted no risk to drinking water supplies although it discovered polluted groundwater deep within the limestone rock.
The remediation works will include an engineered cap, with vapour and surface water controls, installed over the waste in the quarry.
The agency said the site and surrounding area would be comprehensively monitored during and after construction.
Gareth O'Shea, from Environment Agency Wales, said: "This is the culmination of detailed investigations into the site and we are very pleased to start this work.
"These kinds of sites are an ugly reminder of the unregulated bad practices which are thankfully a thing of the past.
"The cap will effectively keep rainwater from the waste so the water does not become contaminated and will reduce the risk of pollution.
"It will also act like a barrier so wildlife and local people will not come into contact with the waste if they enter the quarry."
Rhondda Cynon Taf, which has helped draw-up the plans, said that while there was no evidence of adverse health implications, potential links between the quarry vapour and homes had been identified and would be addressed.