Lynette White case: Police 'rewrote witness statements'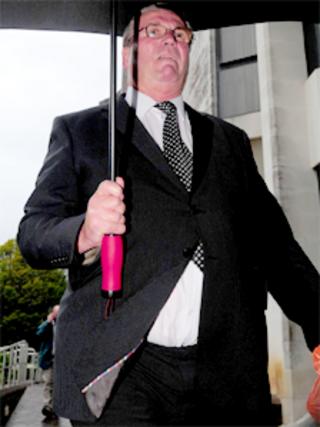 Vital evidence in a Cardiff murder inquiry was rewritten so it implicated innocent men, a trial has been told.
An expert has told Swansea Crown Court she founds traces of the words on other pages of a police notebook.
The prosecution claims statements by key witnesses in the case of prostitute Lynetter White led to the arrests of men who became known the Cardiff Five.
Eight ex-police officers deny perverting the course of justice and the trial continues.
Ms White's body was found at the Cardiff flat where she worked in February, 1988. The 20-year-old had been stabbed more than 50 times.
The court has heard that, nine months later, the investigation into the murder had got nowhere.
Convictions quashed
The prosecution claims that instead of continuing to investigate with open minds, police bullied witnesses into giving false evidence against people they thought were responsible.
Five men, John Actie, his cousin Ronnie Actie, Stephen Miller, Yusef Abdullahi and Tony Paris became known as the Cardiff Five when they went on trial in 1990 for the murder of Miss White.
Mr Miller, Mr Abdullahi and Mr Paris were convicted and jailed for life.
The Cardiff Three as they became known were released two years later after their convictions were quashed.
The Swansea trial has heard part of a witness statement used by police to justify the arrest of the five men had been re-written by a detective.
Witness Mark Grommek has already told the trial that intense police pressure and bullying forced him to change his story.
A statement he gave to then Det Con John Seaford was highlighted by forensic expert Dr Catherine Barr, who demonstrated how the statement appeared to have been changed to implicate previously unidentified people.
The prosecution claims the "strengthening" of Mr Grommek's identification of Mr Abdullahi and Mr Actie was an example of how they "fitted up" the men they thought had stabbed to death Ms White.
On Tuesday, Dr Barr said she used electrostatic detection apparatus (ESDA) to examine some of the signed statements.
The technique could trace and outline words indented onto paper that had been underneath the original document when it had been composed.
Liquid damage
The jury has heard that after his arrest 17 years later, Mr Seaford told police that he recalled spilling a cup of tea and that he had to re-write a page of his notes.
Dr Barr said she examined the other, surviving pages for liquid damage and could find no such evidence but by then they had been subjected to other tests and finding anything would have been very difficult.
The Cardiff Five were arrested a few days after Mr Grommek, who lived in the same building as Ms White, made the statement, the court heard.
In 2003, security guard Jeffrey Gafoor admitted murdering Lynette White and said he had acted alone and that he had had no connection with any of the men put on trial in 1990.