Lynette White case: Suspect 'did not see daylight'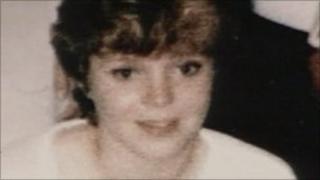 A man who was wrongly accused of the 1988 murder of Lynette White has said he "did not see daylight for two years" while he awaited trial.
John Actie was one of five people who went on trial for the murder. Three were wrongly jailed and later freed, but he and another man were acquitted.
Mr Actie told Swansea Crown Court he had been "fitted up".
Eight ex-police officers deny perverting the course of justice and the trial continues.
Miss White, a prostitute, was stabbed to death in her Cardiff flat on Valentine's Day, 1988.
Mr Actie, his cousin Ronnie Actie, Stephen Miller, Yusef Abdullahi and Tony Paris became known as the Cardiff Five when they went on trial in 1990 for the murder of Miss White.
Mr Miller, Mr Abdullahi and Mr Paris were convicted and jailed for life.
They were released in 1992 when the Court of Appeal quashed their convictions and Mr Miller was later awarded £571,000 in compensation.
John and Ronnie Actie were acquitted, after spending two years in jail awaiting trial.
The three surviving members of the Cardiff Five are giving evidence at Swansea crown court against eight of the former police officers who helped prepare the case against them.
The prosecution claim that by September 1988, officers were "getting nowhere" and, instead of continuing to investigate with open minds, bullied witnesses into giving false evidence against people they thought were responsible.
The witnesses included Leanne Vilday, Angela Psaila, Mark Grommek and Paul Atkins. Miss Vilday and Miss Psaila told a jury they saw Mr Actie at the murder scene.
Mr Actie told the court he saw them for the first time at Cardiff Magistrates Court in early 1989.
He said that in the 1980s he had spent time in jail for "drugs, robbery, various offences".
After his arrest in December, 1988, he was handcuffed and placed in a boiler suit, and said he realised he was being "fitted up" for murder.
At the time, he had been living close to Miss White's flat.
Police made house-to-house inquiries after the killing and he filled in a questionnaire saying he had been in the Casablanca night club and had walked home in the early hours.
During an interview after his arrest 10 months later, he mistakenly told detectives he had been home all night.
He later realised his mistake but felt he had to stick to the new story, the court heard.
Life sentence
He said that after the interviews, the Cardiff Five - each handcuffed - were lined up before then Detective Chief Superintendent John Williams at Cardiff Central Police Station.
"There must have been fifty of them, all smiling and laughing," he said.
"The head of the CID, John Williams, read out the actual charges. I nearly choked.
"I was taken back to a cell and a policeman came.
"I said I wanted to make a telephone call and he said 'In twenty five years, John'."
He added: "I did not see daylight for two years."
In 2001 an investigation began into how the men came to be charged and put on trial.
In 2003, advances in DNA led new officers to Jeffrey Gafoor, who admitted the murder and said he had acted alone. He is serving a life sentence.
All the police officers deny conspiracy to pervert the course of justice. One officer also denies two counts of perjury.
Two other people also deny perjury.