Maciej Dakowicz defends Cardiff After Dark photographs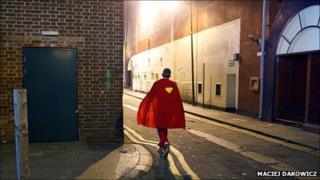 A photographer says his pictures showing Cardiff at night do not tell the full story of the Welsh capital.
Some pictures have appeared in the Daily Mail, attracting hundreds comments from readers, with some saying they show "degeneration of a society".
Among the images in Maciej Dakowicz's collection are drunken revellers.
But he says scenes of drunkenness are not every night in the city, and his collection has been created over several years of living in Cardiff.
"I try to be objective," said Mr Dakowicz.
"You can make different stories from the photos," he said.
According to the Daily Mail: "The scenes were all captured in Cardiff, in the area around St Mary Street and neighbouring 'chip alley'.
"But similar scenes are being played out in town centres all over Britain every weekend.
"Yet there was no sense of concern or revulsion the other day when this collage of shame was unveiled before an audience of 1,000 people. Instead, they leapt to their feet, applauding, roaring with laughter and crying 'Bravo!'
"For, in the eyes of the experts and professionals gathered at the International Festival of Photojournalism in the French city of Perpignan, this portfolio of work - entitled Cardiff After Dark - was a beautifully crafted and realistic portrait of life in modern Britain."
However, Mr Dakowicz, 34, who has lived in Wales for many years, said he had been surprised by how much reaction there has been to some of his photos in the media.
He said people who saw his images in an exhibition and in context were very positive in their responses.
They have previously been used as part of an exhibition in his Polish home city, Bialystok.
Four images from the collection Cardiff After Dark are being shown next month in a US international street photography exhibition in Louisville, Kentucky.
Describing British culture in a previous interview, Mr Dakowicz said: "In Cardiff at least, it's more peaceful - I'm not sure about other cities in the UK.
"In Cardiff, there's very rarely fighting on the streets."