Ex-farmer Ian Neale claims world record swede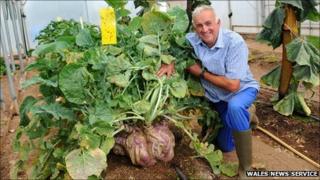 A retired farmer who spends up to 70 hours a week working on his vegetables has claimed a world record for the heaviest swede.
The vegetable grown by Ian Neale, from Newport, tipped the scales at 85.5lb (38.8kg), or 6st 1.5lb.
Guinness World Records said the record had not yet been verified, but the previous record was 82lb 14oz (37.6kg).
Mr Neale previously held the record for a beetroot which weighed in at 51.5lb (23.4kg).
"I'm chuffed to receive this title," he said.
"It's a welcome achievement after months of hard work.
"You have got to put a lot into it, you've got to let it take over your life. If you are not going to try to win, then don't do it."
His passion for large vegetables started 30 years ago with a bet between friends over who could grow the biggest onion.