Newport shooting: Darren Williams 'planned to kill me'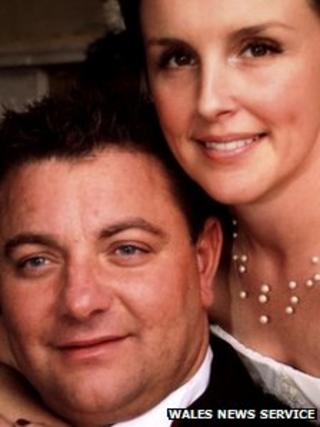 The estranged wife of a gunman shot when her husband opened fire in a hair salon believes he planned to kill her.
Rachel Williams, 39, is still in hospital after Darren Williams shattered her leg with a bullet before he was found hanged two weeks ago.
She was working at the Carol Ann Hair Salon in Newport when he walked in with a double barrelled shotgun.
She told the South Wales Argus newspaper: "I believe it was one bullet for me and one bullet for him.
"I know he had come in there to kill me," she told the Argus in an interview from her bed at Morriston Hospital, Swansea.
Two customers in the salon, Connie Evans, 92, and another woman were also injured on Friday, 19 August.
The incident sparked a major search involving armed police and a helicopter and the 45-year-old gunman was found hanging in Brynglas Woods hours later.
It has since emerged he was jailed for four months in 2004 after police discovered what was described as an arsenal of weapons at his home in Newport.
Ms Williams said she was standing at the front desk when her estranged husband walked in.
'He pummelled me'
As he took out the weapon, she attempted to grab it from him but he hit her in the head with the butt of the gun.
Ms Williams told the Argus that he punched and kicked her as she lay on the floor.
She said: "He pummelled me. I don't know how I didn't get a broken nose or jaw." Seconds later he pointed the gun at her and opened fire.
Ms Williams said she instinctively pulled her knees to her chest, meaning she was hit in the left leg.
She said: "I pleaded with him not to do it. If it hadn't have been in my leg I wouldn't be here now.
"Then the second time he shot, he said, 'Rachel I love you' but that shot went around the room.
"I know he had come in there to kill me. I believe it was one bullet for me and one bullet for him.
"I think hanging himself was a back-up plan for him, he was very meticulous about planning things."
Initially she was taken to the Royal Gwent Hospital in Newport where doctors told her she faced losing her leg as it was so badly injured.
Following transfer to Morriston Hospital she underwent an eight-hour operation to reconstruct her shin bone. Surgeons also replaced her knee joint and tendons and moved part of her calf muscle to support her knee.
She also needed a skin graft, seven stitches in her ear and suffered bruises over her face and body. She will be in hospital for another month and will need extensive physiotherapy.
'By hook or crook'
An inquest previously heard how Mr Williams' body was found at Brynglas woods and a post-mortem examination concluded he died from pressure to the neck.
Gwent coroner David Bowen adjourned the inquest for three months while a police investigation is carried out.
Ms Williams told the Argus: "I knew they wouldn't find him alive, I had anticipated it and he told me days before: 'By hook or by crook I will kill myself'.
"I don't think, until I grieve for him, that it will register at the moment.
"I am just interested in getting myself better, then any bridges I have got to cross I will have to do when I go home."
The case has been referred to the Independent Police Complaints Commission (IPCC), which is to decide whether to investigate the events leading up to Mr Williams' death.
In a statement after his death Mr Williams' family said they were devastated.
"Darren has suffered for the last few weeks due to the traumatic break-up of his marriage and desperately needed professional medical attention," they said.