Woman walking dog killed by cows in Radyr, Cardiff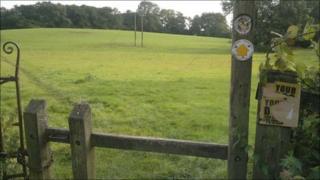 A woman has died after being knocked down by cows, it has been confirmed.
The woman, 61, was walking her dog in a field off Pant Tawel Lane in Radyr, Cardiff, when the incident happened.
South Wales Police said she died of her injuries and there there are no suspicious circumstances surrounding her death.
The coroner has been informed while the Health and Safety Executive is aware of Monday's incident, which happened at about 17:30 BST.
The field is frequented by walkers and dog walkers, with dozens of people a day said to use it.
There are signs warning people of the dangers of allowing their dogs to run free, although local people said they had been vandalised.
A man who works nearby said the body was found about 10 yards away from a well-used footpath.
'Blocked-off lane'
He said: "Police arrived and quickly sealed off the field as a potential crime scene.
"They had floodlights, CID here and all sorts arrived including paramedics and doctors.
"It's a truly unfortunate thing to have happened."
The man said the area was very popular with dog walkers but at this time of year, cattle are naturally protective of their calves.
"We get loads of dog walkers up and down here because it's a blocked-off lane. They just walk up and turn round. We know a lot of people by their dogs."
Just over two years ago another woman, aged 63, died after being trampled by cows while walking her dog in another field on the western edge of Cardiff.
A verdict of accidental death was recorded at the inquest in October 2009 on Anita Hinchey, St George's-Super-Ely, who was surrounded by the cows in St Fagans, near the entrance of the Museum of Welsh Life.