Cardiff Asbo for Agripina Gheorge, 74, over begging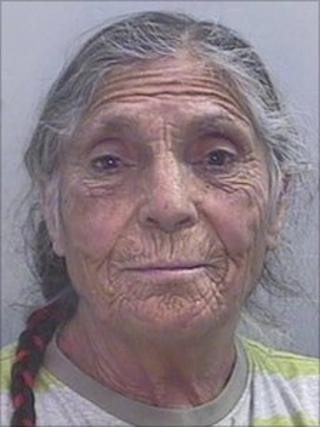 A woman has been banned from begging in Cardiff as a result of an anti-social behaviour order (Asbo) imposed on her for three years.
Agripina Gheorge, 74, of no fixed abode, was made the subject of the order at Cardiff magistrates court.
The order bans her from begging anywhere in Cardiff and entering the city centre between 08:00 and 20:00.
Police had received complaints on a daily basis from the public and shopkeepers.
Nappies and milk
If she breaches the order, she could be given a five-year prison sentence, a fine or both.
Members of the city centre policing team were approached on a daily basis by members of the public and shopkeepers regarding the behaviour of Agripina Gheorge.
She would often hand out a note stating that the money was to buy nappies and milk for her babies.
Acting Sgt Geraint White of South Wales Police said this is the fourth anti-social behaviour order the city centre policing team have obtained in recent months.
"Those made subject of Asbos have been provided with opportunities to engage with services that can help but unfortunately they have continued to beg," he said.
"Anti-social behaviour orders give individuals an opportunity to abide by the conditions and to change their behaviour."
Deputy council leader Coun Judith Woodman said: "People have the right to go about their business in Cardiff city centre without being harassed in this distressing manner.
"It is unacceptable for people to behave in this manner and I'm pleased a partnership approach involving Cardiff Council, South Wales Police and the CPS has led to this individual being banned from begging and entering the city centre at times when she can become a nuisance to others."
The public is urged to continue reporting all incidents of anti-social behaviour and, if they believe the terms of an Asbo are being broken, to contact the police on 101.