Llynfi BMX track at Coegnant inspires regeneration hope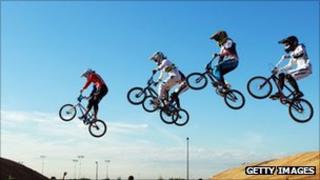 A former colliery site has been transformed into Wales' first national-standard BMX bike track.
It is hoped the Llynfi BMX Track, at the former Coegnant Colliery at Caerau, near Maesteg in Bridgend county, will help regenerate the area.
Built over two years to specifications endorsed by British Cycling, the track opens to the public on Monday.
"We'll be able to pull in people from across Britain and further afield," said project spokesman Eugene Dubens.
The track features a starting hill, 90 degree turns and a variety of jumps - some as high as 2.3m (7ft 6in) - and has been built with 7,000 tonnes of soil.
Spectator areas and car parking facilities complete the venue, which is surrounded by a tall security fence to prevent motorcycle riders using the track.
The project was conceived by the Caerau Development Trust in partnership with Bridgend council, the Welsh Government and Maesteg council.
'Unique feature'
Mr Dubens, the Caerau co-ordinator of the Communities First scheme - set up to improve the living conditions and prospects of people in Wales' most disadvantaged communities - described the track as "a significant new facility" for BMX biking, now an Olympic sport.
"The unique feature of this track compared to other tracks in Wales is that it's built to national standards that have been endorsed by British Cycling [the UK's governing body of cycling]," he said.
"What that means is that we can host regional and national competitions on the track."
Mr Dubens said the track had been developed and would be run for and by the local community.
"What we are trying to do is to tap into tourism and other ways of regenerating the area," explained.
"We are close to Afan Forest where people travel from all over to go mountain biking, and it was a question of how does a rundown area tap into that? With a BMX track.
"It's a local facility but also a regional hub."
Sunk in 1882, in 1913 Coegnant Colliery employed 1,900 men. Its maximum output reached 309,177 tons in 1920. The colliery was wound up by the National Coal Board in 1982.
David Sage, Bridgend council deputy leader, applauded Caerau Development Trust for its vision and innovation in developing the project.
"The way in which this former industrial site has been given a fresh lease of life is a clear example of how we can all work in partnership to deliver not only a first-rate new facility for the local community, but also a facility that will help to put that community on the map," he said.
Monday's opening will be marked with BMX demonstrations, challenges, free coaching sessions, professional and amateur races, prizes, live music and graffiti art workshops.
The council said plans were being considered to create more community facilities on the former colliery site, including a sports barn, affordable housing and a multi-purpose rugby and football field.