Education commissioners appointed at Blaenau Gwent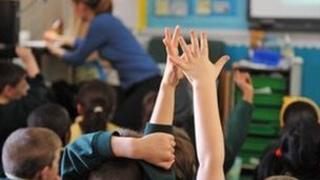 Two commissioners are to take over education services in Blaenau Gwent from September.
In July the local education authority became the first in Wales to go into special measures after a report found "systemic" management failures.
The commissioners will oversee and direct a task force which is already in position.
Blaenau Gwent council said it welcomed the commissioners' support in "improving outcomes for all learners".
Education Minister Leighton Andrews said it was clear "urgent action" was required to improve standards.
A highly critical report by schools inspectorate Estyn found children and young people in Blaenau Gwent "do not make good progress" and that standards "are well below what is expected".
Mr Andrews said at the time he had no choice but to intervene and place the council's education department into special measures after the report.
The commissioners are Bethan Guilfoyle, former head teacher of Treorchy Comprehensive, and Isobel Garner, formerly chief executive of Wrexham council.
Mr Andrews has also appointed two advisory education commissioners - Nerys Evans, former Plaid Cymru Assembly Member and the party's former education spokesperson in the assembly, and Alan Evans, from Cardiff University.
He said Blaenau Gwent had "failed to provide their learners and schools with the quality of services they are entitled to".
"It's now time to take positive action, Blaenau Gwent is in a serious position and it is abundantly clear that urgent action is required to turn this around.
"I have every confidence in the education commissioners which have been appointed today.
"Their experience and expertise will be imperative in making significant improvements in the local authority."
Sylvia Lindoe, director of education at Blaenau Gwent council, said: "We welcome the support of the commissioners in implementing the programme for improvement that is set out in our action plan.
"I'm pleased to say that the action plan was well received and Estyn accepted it in full.
'Crucial work'
"It was put together in the summer holidays so it will be shared fully with schools in September. All schools have received a copy of the action plan."
She said the council would work closely with the commissioners, the Welsh Government and Neath Port Talbot council - which helped with the action plan - to secure improvements.
"We have addressed difficult issues associated with transforming our education services over the past few years so that we have the capacity to improve and Estyn's report strengthened our resolve further to continue this crucial work to raise standards," she added.
Earlier this year Local Government Minister Carl Sargeant appointed commissioners to run Anglesey council after years of political infighting, taking all executive powers away from councillors for the first time at a UK local authority.