Mike Collier traces subjects from 1970s Rhondda photos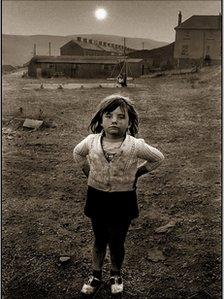 A photographer who took a series of striking shots of people from the Rhondda in the 1970s is trying to trace some of his subjects.
Mike Collier, 68, who grew up in Ynyshir, near the Rhondda town of Porth, has been taking photographs since he was a child.
He was 14 when he took a selection of photographs, including one of a boy and his cat.
Mr Collier is now keen to put names to the faces in his old pictures.
"My favourite one is of a little boy I photographed when I was 14," he said.
"He's standing on the doorstep looking very scruffy and there's a very relaxed looking cat sitting alongside him. The interesting thing is that I didn't really know him or his family."
Another of Mr Collier's favourites is a photograph of a little girl in a playground in Edmondstown near Tonypandy.
"She's got her hands on her hips and she's backlit by a sort of weak sun. And I would like to find her very much," he said.
'Wonderful' valleys memories
Although Mr Collier "travelled the valleys and went to different playgrounds, different areas," he was in too much of a rush to take down any contact details for the families he was photographing.
"I took pictures, spoke to the children and families and they invited me in for tea. It was wonderful," he said.
"But as always I was in a rush to get a submission in."
Mr Collier submitted most of the photographs to the Royal Photographic Society in 1970 and 1976.
These photographs culminated in an exhibition at the Rhondda Heritage Park in 2006.
"I've been taking pictures since I was eight or nine. But I had this marvellous new camera when I was 14 and I recorded everything - collieries, pit ponies," said Mr Collier.
"I was recovering from a second heart bypass operation and I felt that I needed this exhibition or perhaps the valleys needed this exhibition. And it was marvellously successful."
Before the exhibition, he had tried to trace some of his subjects in the valleys. But some of the streets he photographed no longer even exist.
"I did go back in 2005 before the exhibition in the Rhondda Heritage Park. I tried to find the little girl and some other people but there was no trace of them," he said.
Since beginning his search, Mr Collier has so far found details relating to only one of his pictures.
"One picture has been identified and that's the one of the elderly ladies with half an orange each. And I got all the details of this and it was incredible," he said.
Anyone with details about the Rhondda-based pictures can contact Mr Collier by email at mikeandbabs@ntlworld.com.
Related Internet Links
The BBC is not responsible for the content of external sites.