M4 tunnel fire: drivers still warned of long delays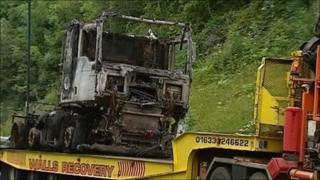 Drivers are still being urged to avoid the M4 motorway near Newport, three days after a lorry fire closed the westbound Brynglas tunnel.
Motorists faced 30-minute delays on Thursday, with the tunnel still closed and a contraflow system operating in the eastbound tunnel.
A Welsh Government spokesman said congestion was to be expected with "four lanes down to two".
The lorry has been removed and a clean-up operation is under way.
Once the clean-up is complete, electrical and structural inspections will be carried out.
On Thursday, drivers reported long delays in the area, particularly with motorists trying to join the M4 from Newport.
Traffic Wales said the delay was approximately 30 minutes.
A Welsh Government spokesman said: "We believe people are staying away, where possible.
"There is going to be congestion when you go from four lanes down to two.
"We'd repeat the message for people to use common sense and try and try and avoid the M4 and use alternative arrangements where possible."
Described as the main artery into Wales, the tunnel was closed on Tuesday morning following the incident at about 0830 BST.
Despite the severity of the blaze, and the chaos that followed, the lorry driver escaped unhurt.
Firefighters spent most of the day tackling the blaze, and black smoke was seen billowing from the tunnel.
Drivers caught in the congestion reported taking up to an hour to travel a mile, with lengthy tailbacks spanning several junctions.
The incident has re-opened the debate on whether an M4 relief road is needed.
Conservative AM William Graham said he had "dreaded" an incident like this, adding: "This is why we were so disappointed when the M4 relief road was cancelled".
Plans for the £1bn road were scrapped in 2009, but the Welsh Government is still looking at previous plans to divert M4 traffic onto a Llanwern steelworks road.
The South Wales Chamber of Commerce said the disruption caused by the tunnel fire could have a significant impact on businesses.
One haulage firm, Hicks Logistics, based in Caldicot, Monmouthshire, said it lost £5,000 of income on Tuesday as a result of lost truck loads - a quarter of the business it does every day.