Led Zeppelin's Robert Plant plays Monmouth hall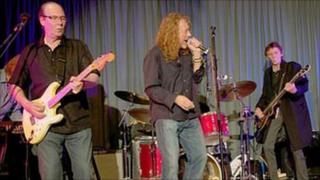 He may be used to selling out huge arenas, but Robert Plant thought nothing of performing in front of 200 at a surprise gig in a community hall.
The former Led Zeppelin frontman joined two bands at a charity show in Monmouth to a crowd of invited guests.
The event was a tribute to his friend, Pat Moran, a former Plant co-producer, who died of a rare dementia in January.
Lifelong fan Darren Martin, 45, said: "It was amazing - he's a rock god and he was playing in a village hall."
Plant, 63, delighted the small crowd at the Bridges Community Centre in the Monmouthshire town on Saturday 9 July with six songs including some R&B classics and his solo hit Big Log.
Mr Martin added: "It was a real honour to be there and he chatted with the audience afterwards."
Mr Moran, 63, who worked as an engineer on Plant's first solo album, and engineered and co-produced his second at the nearby Rockfield studios in Monmouthshire, died of Pick's Disease in January and the event was a fundraiser in his memory.
Scratch band
Organiser, Mr Moran's brother Brian said: "It was very kind of Mr Plant to join in - Pat would have been very proud.
"Mr Plant was even kind enough to sign a T-shirt which will be auctioned on eBay this week."
The event has so far raised £1,500 for the Pick's Disease Support Group, with more expected from the eBay sale.
Also performing were two bands - Welsh band Hobo - and a scratch band made up of musicians associated with Mr Moran and Rockfield Studios, who played under the name of the Rockfield Allstars.
They included Verden Allen, (ex-Mott the Hoople), Dave Edmunds, (Rockpile), Ray Martinez (Spring, Gypsy), Martin Chambers (The Pretenders), Neville Farmer (BBC producer), Paul Martinez (various bands), Dave Charles (producer and various bands), Steve Mcinnery and singer Amanda Ward of Rockfield Studios.