Amy Winehouse godchild Dionne Bromfield's show goes on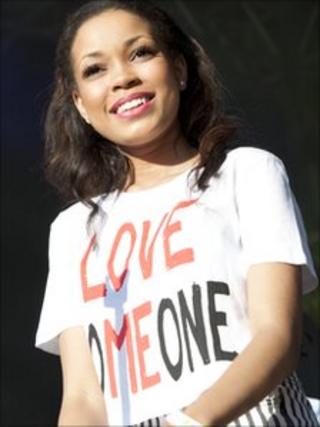 Amy Winehouse's goddaughter Dionne Bromfield performed at a festival in Pontypridd just two hours after news broke of the singer's death.
The 15-year-old, who was mentored by Grammy-winning Winehouse, took to the stage at Ponty's Big Weekend to support boy band The Wanted.
Winehouse, 27, was discovered dead at her north London home on Saturday.
Despite her grief, Bromfield sang for 20 minutes, only slightly short of the scheduled half-hour set.
Music promoter Orchard Entertainment said there was no pressure on Bromfield to perform.
Spokesman Tim Powell said: "It was very, very professional. We would have perfectly understood if she hadn't wanted to perform but she very bravely did.
"There was no pressure, certainly not under those circumstances. She decided that she wanted to play so it went ahead as scheduled."
Warm applause
He said the young singer had shown no sign of being emotional during the concert, which was only a couple of hours after the news broke.
Receiving warm applause, Bromfield made no mention of Winehouse and did not perform any songs from the Grammy-winning Back to Black album.
Mr Powell said it was particularly poignant that the pair had performed together just days before.
Winehouse made her last public appearance on Wednesday when she joined Bromfield on stage at The Roundhouse in Camden where she was again supporting The Wanted.
The star danced with her goddaughter and encouraged the audience to buy her album in the impromptu appearance.
"Amy was a big influence on her and seemed to be guiding her career," said Mr Powell.
Bromfield left Pontypridd immediately after her performance on Saturday.
Christian Hanagan, head of strategy for the Ponty Big Weekend festival, said the young singer gave a good performance and received a warm response from the crowd.
"We were aware of the issues and the crowd was aware too and they gave her a rapturous applause," he said.
Bromfield, who mixes soul melodies with hip hop beats, was the first signing to Winehouse's record label Lioness. Her album 'Introducing Dionne Bromfield' was released in 2009.