Jade Ruck admits killing 11-month-old daughter Harley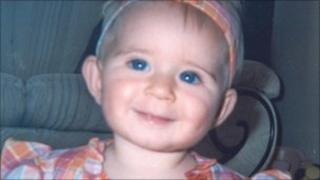 A single mother has admitted killing her baby daughter just four days before her first birthday.
Jade Ruck, 23, denies the murder of Harley Ruck who was found dead at their flat in Abergavenny in November 2010.
She admits manslaughter on the grounds of diminished responsibility. Her plea has yet to be accepted by the Crown Prosecution Service.
Ruck was remanded in custody to a psychiatric clinic and will return to Cardiff Crown Court next Thursday.
The single mother was arrested after being found at her home with Harley's body at her side.
An inquest had heard that Harley suffered multiple stab wounds and there were also signs of strangulation and suffocation.
Serious case review
Peter Murphy QC, defending Ruck, said: "The psychiatric reports support a charge of manslaughter - there are four consultants who have come to the same conclusion."
Judge Nicholas Cooke QC told her: "You are remanded to a clinic - I have read your psychiatric reports and you are in the right place."
A serious case review is being carried out into Harley's death and Monmouthshire Council has referred the case to the Care and Social Services Inspectorate Wales.