Golden Oldies song charity launches in south Wales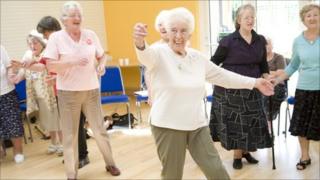 A charity that encourages elderly people to sing and stretch to classic pop songs is launching in south Wales.
The Golden Oldies charity is linking with Age Concern in Cardiff and the Vale of Glamorgan to attract support for Goldies Cymru.
It runs more than 1,600 sessions a year in the west of England since launching in Bath four years ago.
"Wales has the fastest growing elderly population and areas of need," said founder Grenville Jones.
"Our ethos is simple - it is to give people, some who may be isolated and lonely, events to look forward to," added Mr Jones, a choirmaster.
"Through my friendships with male voice choirs in Wales I know there are concerns that many elderly men who have become unable to get to choir any more become isolated.
"Goldies Cymru will be a new enjoyment for them and many others."
The charity currently runs weekly or monthly events in more than 50 locations in the west of England, involving around 750 elderly people.
The sessions feature a range of classic pop songs from the 1950s to the 1970s, including many by Sir Cliff Richard, the charity's patron.
In January an evaluation study by the University of Bath found that more than 90% of participants felt the sessions enhanced their health and well-being, as well as strengthening and stimulating communities.
Study leader Dr Barbra Teater said: "It can potentially be a cost-saving programme to society by reducing social isolation and improving overall health."
Goldies Cymru is being launched on Wednesday at Healthy Wealthy and Wise at the Old Trelai Library, Ely, Cardiff.
Mr Jones will lead a taster session with the aim of attracting interest and funding to set up eight groups across south Wales by the end of 2011.
Matthew Coffin of Age Concern Cardiff and the Vale said: "We are delighted to be working with Grenville and the Goldies in Cardiff and the Vale.
"This is a charity that is affecting so many isolated elderly people in the west of England and we were very impressed when we read the comments from academics at the University of Bath.
"Goldies Cymru has to take off in Wales and this is just the start."