St Fagans: National History Museum police station plans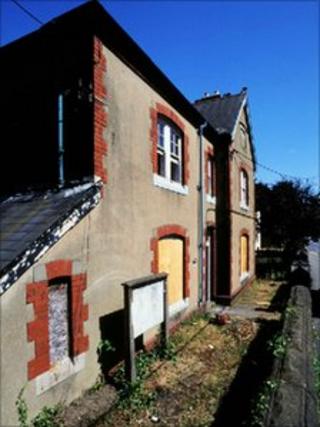 A Victorian police station dismantled and put in storage a decade ago could be coming out of custody at last.
Plans to rebuild the historic Taffs Well station have been resurrected by St Fagans: National History Museum, near Cardiff.
The museum wants to add the station to its collection and is urging members of the public to disclose any memories or artefacts.
The proposal would see the station rebuilt brick-by-brick by 2014.
Plans have been lodged with Cardiff council and are awaiting approval.
The building, which dates back to 1894, also once acted as accommodation for a police sergeant and his family, with extra bedrooms for officers, a prisoners' yard, two cells and an area for holding and charging offenders.
As it has survived "remarkably intact", the aim is to recreate it as an example of what an institute of law and order would have been like at the time.
It was given to the museum by South Wales Police in 2001 and the brickwork is currently stored on site.
News of the planning application was welcomed by Don Llewellyn, chair of the Pentyrch and District Local History Society.
He told BBC Wales: "That representation of life is long gone as the village bobby and village lock-up no longer exists and the level of crime now outstrips what that system was able to cope with.
"In that respect, it's a marvellous way to preserve a feature of life in past times."
In the design and access statement, curator Gerallt Nash writes: "It does lend itself to refurbishment as a late 19th century/early 20th century police station and sergeant's living quarters."
The plan is to turn the second floor into an area to interpret the wider subject of policing in Wales using objects from the museum's collection. The second cell on the ground floor could be converted into an IT resource which will be accessible to the disabled.
It will be situated on the main road of the museum site, next to the existing re-erected Oakdale Workmen's Institute.
Completion date
The museum hopes to complete the project by October 2014 and says it cannot wait to get started.
It will use written records from the original architect dating back to 1892.
Mr Nash told BBC Wales: "It's a very exciting project as it's going to be a building a lot of people can relate to because of its links to law and order.
"It's now up to us to find stimulating ways of engaging with the visiting public.
"We are at the very early stages but we're open to ideas and would love to hear from those who have specific memories, photos or artefacts relating to that station.
"It would be great to hear from former police officers, or indeed anyone who spent a night in the cells."
In the past the council raised concerns about possible threats to the existing great newt population and bats as the area is a Site of Importance for Nature Conservation (Sinc).
Wildwood Ecology have carried out a bat survey, which found existing cavities in the tree trunks were not deep enough for bats.
Soltys Brewster Ecology has carried out an extended habitat survey on the great crested newt population and recommends a string of measures to minimise the risk of harm to the species.
The museum already has more than 40 original buildings from different historical periods which have been re-erected.
Among them are houses, a farm, a school, a chapel and the Workmen's Institute.
Those with memories or items are asked to contact Sioned Hughes at the museum on (029) 20573500