Cardiff landmark clock in St Mary Street to be restored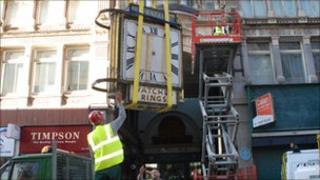 A landmark clock which has been a feature in Cardiff city centre for over a century is to be restored.
An H Samuel clock has hung above Cardiff Market in St Mary Street since 1910, but the latest model, installed in 1963, has not worked for years.
Cardiff council has announced it will spend £25,000 on repairing and restoring the timepiece.
The restoration is expected to take eight weeks but the clock will not be reinstated until October.
It is part of wider plans to improve the appearance of St Mary Street and High Street and make the area better for pedestrians.
The council's executive member for sport, leisure and culture, Nigel Howells, said: "The Cardiff Market clock is a little piece of the city centre's history and a much-loved landmark.
"St Mary Street and High Street are themselves currently undergoing a historic transformation with the spectacular re-paving work that is being created to enhance the city centre environment, and the restoration of this clock is all part of that process.
"I am really looking forward to seeing the clock back above the market and fully working again."
The original H Samuel clock is believed to have been in place since around 1910.
In 1963 it was replaced by an updated model by clockmakers Smith of Derby. It was one of many installed over the country, although only a handful now remain.