Bottling plan for ex-Dairy Crest Whitland creamery site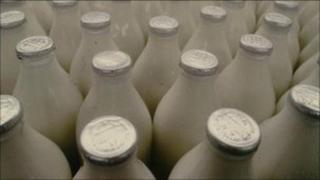 A company and a co-operative have unveiled plans to return milk bottling to a site which shut in the 1990s.
The Dairy Crest creamery at Whitland in Carmarthenshire closed in 1994 with 150 job losses.
The Proper Welsh Milk Company and Calon Wen say a £1.4m new dairy unit means they they would be able to deliver milk directly to stores across south Wales.
Milk from west Wales farms currently goes to England for bottling before travelling back to Wales.
The former creamery, which occupies a large site in the town, was first mothballed before becoming a storage facility.
It produced dried milk and butter and was regarded as one of the most modern plants in Europe, processing 8m litres of milk every week.
The plans now before Carmarthenshire council envisage a much smaller operation, employing 10 people initially rising over five years to 60.
Proper Welsh Milk said the rising cost of fuel meant it made more economic sense for milk produced in Wales to be processed in Wales.
'Selling direct'
It said it expected to be running by the end of August, with output at first limited to a 14,000-litre milk tanker calling every two days.
Director David Miles said: "The long-term aim is to have farmers selling direct to us.
"We've started a recruitment campaign in the small radius of Whitland. I've already had six appointments to go and see farmers regarding their wish to supply and I'm continually getting phone calls.
"We're quietly hopeful we will recruit farmers to supply us."
Organic milk cooperative Calon Wen is taking a 40% interest in the project.