Unite in talks to save jobs at Llantrisant firm Sogefi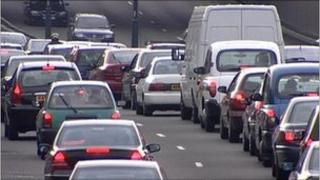 The Unite union is to hold talks to save up to 190 jobs at a Welsh car filter firm on Friday.
The move comes after Sogefi Filtration Ltd's announcement on Thursday that many jobs are at risk at its south Wales plant as the company restructures to face "difficult market conditions".
The Italian-owned company is starting a 90-day consultation period with workers at its base in Llantrisant, Rhondda Cynon Taf.
More than 400 staff work at the plant.
Unite regional officer Andrea Jones said the potential loss of almost half the workforce was "devastating".
"Many of our members who have been loyal and hardworking employees of the company for many years will struggle to find work in the current economic climate, if the proposed redundancies go ahead," she said.
She added that the company is looking to restructure, citing a downturn in work and change in working practices and is looking to outsource its distribution department to a company based in Leicester.
A spokesman for Sogefi said the firm would do everything it could to keep employees informed, limit job losses and help those involved find new work.
Production, distribution and staff posts are affected, the firm said.
Keith Drew, general operations manager of Sogefi Filter Division, said the company was "very disappointed" about the proposed job losses.
"The continuing difficult market conditions and spiralling costs mean that we now have an urgent need to restructure our operations at Llantrisant," said Mr Drew.
"I do appreciate that today's announcement will cause a great deal of uncertainty for employees and can assure them that will be working closely with colleagues on the Unite Union Shop Stewards Committee to ensure that the potential impact is kept to a minimum.
"Our main priority now is to keep employees informed throughout the process, to do what we can to keep job losses down and to support those affected in finding alternative employment should that prove necessary."
In May 2005 Sogefi announced the creation of 125 jobs at the plant with an £8m expansion programme.
In October 2008 more than 50 temporary staff were laid off at the south Wales plant.
In February 2009 workers there took part in a 24-hour walkout in a row over work agreements.