Key keeper sought for 12th Century castle near Bridgend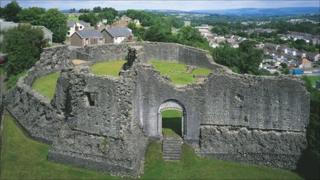 A key keeper is being sought to take care of a 12th Century castle in south Wales.
Cadw, the Welsh Government's historic environment service, needs someone to look after Newcastle, near Bridgend.
The post, which comes with a "modest" fee, involves checking the monument on a daily basis and keeping it free of litter.
The key keeper will also report any damage, vandalism or anti-social behaviour at the site.
Jayne Rowlands, Cadw's head of visitor and business services, said, "Newcastle is an open monument and is open to visitors without charge.
"The key keeper has a vital local role to play in ensuring the site is always well presented and looking at its best for our visitors.
"It would be an ideal opportunity for someone who is interested in caring for a truly attractive monument and who would take pride caring for Newcastle's heritage."
Norman conquest
Established in the early 1100s by Robert FitzHamon, first Norman lord of Glamorgan, Newcastle was initially made of earth and timber.
It was later rebuilt in stone to reinforce the Norman conquest and domination of the local population.
The site appears to have been refortified by Henry II in the 1180s and is notable for its complete Norman doorway.
The previous key keeper, Martin Bryn, is giving up his duties at Newcastle after moving to another part of the town made it more difficult to open and close the site on a daily basis.
He said his work over the last three years had been "very enjoyable" but not without its challenges.
"In the first 12 to 18 months we had a lot of trouble with drug users and other anti-social behaviour but we're well on top of that now," he said.
"The community police officers have been very helpful and a good deterrent.
"Schools have started using it more, it's used for weddings and we've had plenty of Asian people on tours - there's even a lady from Canada who visits the castle every Boxing Day."
Mr Bryn's advice to his successor is to "keep on top of the litter and be friendly to people".
He will continue to serve as key keeper for nearby Ogmore Castle, which he attends one day a week.
Key keepers have played an important role in Cadw's attempts to protect historic remains.
A number of monuments around Wales have suffered from vandalism, litter and anti-social behaviour in recent years.
Anyone interested in the role at Newcastle is invited to contact Jill Brinkworth at Cadw.