Pontypool ski slope saved from Torfaen council cuts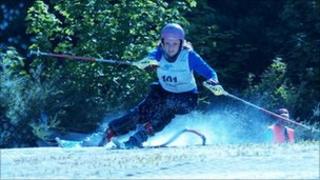 Enthusiasts have saved a ski slope which faced closure over the summer months due to council cuts.
Pontypool Ski Centre was due to close as part of plans by Torfaen council to save £9.2m from its budget.
Torfaen Ski Club came forward to keep the artificial slope open one evening a week and has been able to attract new members.
One leading councillor said the authority must make hard decisions but this was a result of working together.
Built in 1974 in Pontypool Park, the 230m (754ft) Pontypool Ski Centre is Wales' oldest artificial ski slope.
"We have been extremely pleased with the progress we have made," said club treasurer Gary Cooper.
Enthusiasts were concerned that temporary closure could result in deterioration of the matting and ski lift, with the possibility of the slope becoming a target for vandals.
The solution came after consultations between the council's neighbourhood officers, Torfaen Ski Club and Snowsport Wales.
The club, with more than 40 members, agreed to run two-hour sessions every Wednesday night and take responsibility for the operational costs.
The centre offers opportunities for recreational skiing and snowboarding as well as race training with coaches.
Mr Cooper said: "We were worried we would lose the club during the summer but the council have sat down and listened to us.
"The outcome has been good for the club, the park and the talented young skiers in the region."
Lewis Jones, Torfaen's executive member for leisure and culture said: "I am absolutely delighted to see the club doing so well.
"As a council facing huge budgetary pressures we will have to make tough decisions but this is an excellent example of what can be achieved when people sit down and work together."
Torfaen Ski Club have also taken part in national competitions and have recently returned from a club trip to the French Alps.
In June, the Pontypool slope hosted a hundred skiiers from across the UK as part of the Celtic Cup series of competitions.