Gloucestershire firm Renishaw buys Bosch's Miskin plant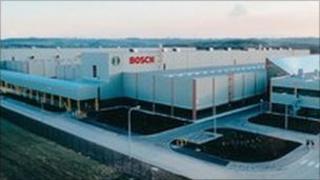 A Gloucestershire engineering firm has bought the Bosch site in the Vale of Glamorgan, on the eve of work ending.
The German motor parts firm's last day of production is on Tuesday with work being transferred to Hungary.
Renishaw will take over the Miskin plant in October but said it is too early to say what jobs will eventually created.
The company said there was nothing in the sale agreement about the 489 remaining Bosch staff being taken on.
"We are still firming up plans for the Miskin site," said Chris Pockett, group marketing services manager for Renishaw, based near Wotton-under-Edge.
"We are not talking jobs at this stage but we have got a good track record.
"Renishaw is making a long term commitment to manufacturing expansion in the UK."
Renishaw is Gloucestershire's largest business employer, with over 1,550 staff based at its five sites in the county.
It said its plans for south Wales - involving its healthcare products - would not impact on its existing factories, where they also planned to expand.
"Whilst it is too early to say exactly what products will ultimately be manufactured in Wales, any employment created at the site will not be at the expense of permanent jobs in Gloucestershire," said chairman and chief executive Sir David McMurtry.
The group supplies products used for applications from jet engine and wind turbine manufacture, through to dentistry and brain surgery.
Sir David said it was a "rare opportunity" to acquire a high quality manufacturing facility, with transport links and relevant local skills.
Permanent jobs
He added: "This is an exciting time for Renishaw, but our rapid growth has presented real challenges with space, both to accommodate the new equipment required to manufacture an ever expanding range of products, and the numerous people that we are currently recruiting for all aspects of our business."
Business Minister Edwina Hart said: "I am pleased that Renishaw has recognised the strengths and skills people in Wales have to offer.
"The announcement that Bosch was to close their plant was a huge blow for the local community but today's news can give hope of new highly skilled jobs being created in Miskin."
The Bosch factory opened in Miskin in 1991 to make alternator products for cars, with the help of £21m in public grants from the Welsh Development Agency, which was subsequently absorbed into the Welsh Assembly Government.
But 20 years later, Bosch announced it was closing, with 900 job losses.
The last alternator for the automotive industry will be produced on Tuesday with the majority of the remaining 489 employees working their last day on Thursday.
In a statement, the firm said: "Both the plant director and the divisional board of management would like to express their regret at the loss of the excellent Bosch workforce in Cardiff.
"Throughout these difficult circumstances the workforce has shown an outstanding level of dignity and commitment."