Bridgend Island Farm ex-PoW camp sports plans backed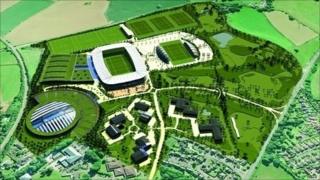 Multimillion-pound plans for a major sports village at the site of a former prisoner of war camp in Bridgend have cleared a planning hurdle.
Various schemes have been tabled previously at Island Farm, including a Welsh Rugby Union (WRU) sports academy.
A new application, including stadia for rugby league, rugby union and football, has now been backed by the council's planning committee.
There is residents' opposition, and the plan will now go to the full council.
Eleven members of the planning committee were in favour, with seven against.
A tennis centre with 10 outdoor courts and swimming pool are among the detailed plans.
The development control committee was recommended to approve the outline proposals, but its report went on to say the decision should be referred to the full council for a final say.
Proposed developments for the 52-hectare site, off Merthyr Mawr Road, date back to 2002.
They have previously proved controversial with local residents, who have opposed schemes including a sports academy, hotel and restaurant and a residential development.
Many still have concerns about the new proposals on the site, which is a mix of mainly arable farmland with tree and scrub land to one side and grazing land to the other.
Part of the site was a prison of war camp which hit the headlines in 1945 when more than 70 German detainees escaped after digging a tunnel, leading to massive manhunt.
They escaped from Hut Nine, which is the only building which remains. It is a listed building.
Before becoming a POW camp, Island Farm was used to house workers from Bridgend ordnance factory.
Today, the site borders Bridgend Science Park and Ogmore Down and has several owners including the council and the applicant, Bridgend firm HD Limited, which has set up a dedicated website to outline plans in full.
They have been asked to comment on the outline plans which propose a mixed sport, leisure, commercial and office development.
The 100-page council report included 26-pages of correspondence - mainly from individual objectors and groups, including residents who call themselves Island Farm Campaign For Action.
They listed worries over volume of traffic and question the need for three stadia.
The campaigners are worried the A48 will not be able to cope, and are concerned at the loss of countryside.
A protest was held before the meeting.
One supporter of the plans is former Wales and British Lions rugby star JJ Williams, a Bridgend businessman, who once led a consortium behind a £170m bid for the Millennium Stadium.
He said before the meeting that Bridgend "must not miss this opportunity because it is not going to happen again".
Mr Williams said all sport groups across the county would benefit from the plans.
"We want this in Bridgend - it needs it," he said.
The council report said the benefits would outweigh conflicts over land use, and it would offer job opportunities and increase Bridgend's attractiveness to visitors.
Any plans would have to go to the Welsh Government for further consideration.