Murder accused schoolboy 'hated' Rebecca Aylward, 15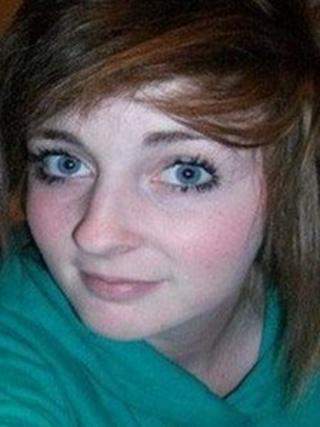 A 16-year-old schoolboy accused of murdering his ex-girlfriend "hated" her and told a friend how he would kill her and "cover it up", a court has heard.
Rebecca Aylward, 15, of Maesteg, near Bridgend, was battered to death and her body found in woodland last October.
Swansea Crown Court heard how the defendant had told a friend it would be "easy" to kill her and "wouldn't life be a lot easier if she wasn't here?"
The teenager denies murder and the trial continues.
Student Rebecca, 15 - known as Becca to her friends - was beaten on the head with a rock.
Her body was found the following day face-down on a wet forest floor.
Giving evidence via video link, a 16-year-old friend who had known Rebecca since primary school, told of the defendant's feelings for his ex.
He told the jury how the accused teenager joked: "Wouldn't life be a lot easier if she wasn't here?
"I'm just going to kill her. It won't be hard - it will be real easy."
The friend said: "It was no secret that he hated Rebecca for quite a long time after their relationship finished.
'Joked'
"I heard him say on several occasions that he could kill her.
"He'd explain how he would do it and how he would cover it up so he wouldn't get caught.
"But I didn't think he was being serious at the time."
The court heard the last time the defendant "joked" of killing Rebecca was in September 2010 - just weeks before she was murdered.
The jury was told the friend had also talked about the relationship with the accused, and heard his reasons for breaking up with Rebecca.
'Buy you breakfast'
"He'd told me Rebecca had tried to get pregnant because she was scared of losing him," he added.
Rebecca's ex-boyfriend claims another friend killed her.
Rebecca was found dead the day after being reported missing by her mother.
The court has heard how Rebecca told her family she was going to meet the accused and that he was due to return to her home that night.
The trial also earlier heard the defendant used to meet every Saturday at a local cafe in the area with teenage friends where they had breakfast together.
At one such meeting he openly discussed killing the girl, his friends assuming he was joking.
They later told police he had a reputation for saying he was going to do things he never subsequently did.
But in a later text to one friend, the jury was told he asked: "What would you do if I actually did kill her?"
The friend replied: "Oh, I would buy you breakfast."
The trial on Wednesday heard the subject of the murder became a regular text topic between the friends.
Two days before the killing the defendant contacted his friend to confirm he would attend their breakfast date.
He added: "Don't say anything but you may just owe me a breakfast."
The friend replied: "Best text I have ever had mate. Seriously, if it is true I am happy to pay for a breakfast."
The defendant adds: "I hope by then it will be done and dusted."
The trial is expected to last five weeks.