'Gem' Cardiff in world's top 10 places to visit in 2011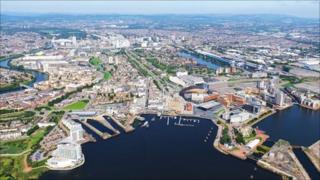 Cardiff has been named by a magazine as one of the top 10 places to visit in the world this year.
The Welsh capital came sixth in the National Geographic Traveller list, alongside the likes of Patagonia in Argentina and the Azores in Portugal.
All 10 locations were deliberately chosen against the usual crop of places that are visited around the globe, with Cardiff described as a "gem".
Cardiff & Co, which promotes the city, called it "quite an accolade".
"We look a lot at the list of places one should go and they all seem like the usual suspects," Keith Bellows, editor-in-chief of National Geographic Traveller.
"We pride ourselves on sniffing out the places that are less likely. There's two reason for this.
"One is the usual suspects are well travelled and so often over travelled, and the other is that these are great gems.
"Cardiff is a great gem. I have to admit my mum is Welsh but had no bearing on this choice.
"We cast our net far and wide with correspondents all over the world. We asked them what were the places people were missing."
Cardiff has undergone major transformation over the past 15 years, which has shaped the city including the town centre and Cardiff Bay.
More than 18.3m people visited the city last year and the new £675m St David's shopping centre has helped it become the third most popular retail destination in the UK.
Hywel Thomas, spokesman for Cardiff & Co, said: "It reflects the city's remarkable journey from a bustling coal port to the pulsating, modern city that it is today.
"This has been a decade or so of significant transformation in the city's physical landscape - a period that witnessed the advent of devolution and the creation of the Senedd, a fitting home for the Welsh Government in Cardiff Bay.
"Alongside it stands the Wales Millennium Centre, attracting the best West End musicals and operatic productions from around the world.
"Visitors can now hop on a water taxi from the Senedd to the city centre and the Millennium Stadium which will host the opening competitions of the 2012 Olympics Games.
"It is evident from this latest testimonial in the National Geographic that the Cardiff is a city being talked about far and wide and for all the right reasons."