New Archbishop of Cardiff George Stack is installed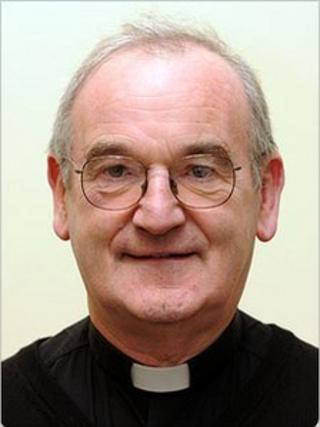 The new Catholic Archbishop of Cardiff has been installed at a ceremony at the city's St David's Cathedral.
The Most Revd George Stack succeeds Peter Smith, who became Archbishop of Southwark.
Archbishop Stack, 66, who was born in Ireland, has spent most of his life in the church in London.
In his homily he said one of the greatest Christian virtues is hope... and a conviction that nothing is wasted in the sight of God.
"(It's) not a vague optimism that somehow things will get better. More a living faith that even in turmoil and confusion there is a meaning and a purpose to existence which cannot be fully explained in the here and now.
"A conviction that nothing is wasted in the sight of God," he said.
Archbishop Stack served for 29 years as a priest and a decade as auxiliary bishop in Westminster.
The Archbishop of Westminster had praised him for his "experience and dedication" during his time as bishop there.
Archbishop Stack said he was "humbled and honoured" at his appointment by Pope Benedict.
The archdiocese of Cardiff serves 100,000 people across 60 parishes - almost half the council areas in Wales, as well as Hereford.
Weak and vulnerable
He will be responsible for congregations of around 18,000 Catholics in south Wales.
Archbishop Stack has already said he would consider learning Welsh, once he has assessed his commitments.
"I'm open to whatever is the most effective way of using my time and energy in the service of the church and the people of Cardiff and of Wales," he said.
"I will be prepared to do anything I can to meet their expectations and demands."
He has also already spoken in a newspaper interview about the need for respect for the weak and vulnerable and the hope of ordinary people being involved in decision-making.