Abergavenny livestock market will be demolished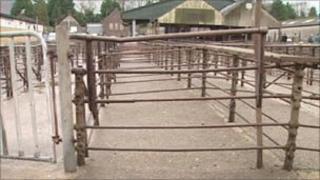 An historic town livestock market will be demolished after councillors agreed to replace it with a new supermarket, library and car park.
Monmouthshire council said Abergavenny mart was not fit for purpose and have already granted planning permission for a replacement near Raglan.
The old site will be developed to include a Morrisons store, public library and 269-space car park.
Campaigners fought the plans, claiming the existing market was thriving.
Protest marches had drawn hundreds of people and thousands signed a petition.
But Monmouthshire council planners agreed on Tuesday it should be demolished and the site developed.
Jenny Long, co-ordinator of the Keep Abergavenny Livestock Market (KALM) group, said: "It was a terrible day for us yesterday. We have sort of expected it but still hoped at the 11th hour our arguments could win.
"We did have 5,200 people behind us, plus all the market traders and 80% of the town centre retailers that we spoke to.
"There were so many people behind us but in the end, for some reason unknown, they didn't count."
Abergavenny and District Civic Society had also raised objections, criticising the design of the supermarket and claiming it did not reflect the character and appearance of the town centre.
The society and other groups, such as Abergavenny Chamber of Trade, said the supermarket should be positioned closer to the town centre.
Traffic in the area has also been raised as a potential problem.
However, a report by council officers said a supermarket at the 150-year-old livestock market site would help "claw back a significant proportion of main food shopping trips and expenditure to the town centre".
'Beneficial'
"The council's retail consultant is of the view that the proposed new store is an appropriate and welcome addition to the town centre," it said.
"The new store may generate competition with some existing traders but, in this instance, the impact is considered likely to be beneficial rather than harmful to town centre interests, such competition is an inherent part of retailing."
The report said claims that the loss of farmers' trade to the town centre would outweigh benefits from a new supermarket "have not been substantiated".
Redevelopment of the site has been proposed for several years but there have been delays as previous schemes have run into problems.