Ancient Cwmbran Society to celebrate new town's history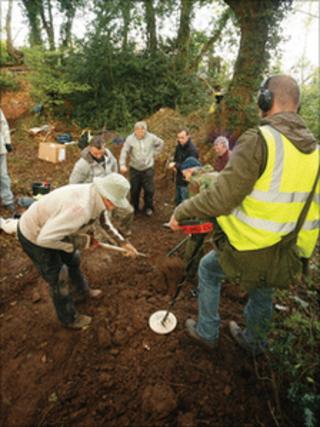 A charity is being launched to continue the work of one of Wales' largest community archaeology projects.
Founders of the Ancient Cwmbran Society in Torfaen say the recent Cistercians project only "scratched the surface" of the area's 3,500-year heritage.
Project leader Richard Davies says he wants to foster a greater sense of "pride, ownership and belonging" among residents of the post-war new town.
The group also aims to promote local history to attract tourists.
The society is being formed as a result of public interest in the Ancient Cwmbran and Cistercians Community Archaeology Project.
Cwmbran is mainly known for the post-war new town, but the area has been inhabited since Neolithic times.
The Iron Age Silures tribe later held sway before being subdued by the Romans, and the area was later on an important pilgrim's route, the Cistercian Way.
But the 18-month community archaeology project proved that Cwmbran had a history stretching back to the Bronze and Stone Ages.
Mr Davies said the study had been "hugely successful", resulting in hundreds of finds, including a Bronze Age wall system and a women's bracelet.
He was also pleased at the way the project had brought local people together, with 150 volunteers coming forward to take part, creating what he called "a huge amount of community cohesion".
"I was aware from my hobby, historical research, that the Cwmbran area was a pivotal landscape in the development and history of the Welsh nation," he said.
"So I aimed to foster a greater sense of pride, ownership and belonging amongst my fellow residents.
"I'd taken an educated guess that there'd be a great deal of interest in history in the new town.
"What really surprised me was the overwhelming enthusiasm for archaeology, history and research."
The completion of the project was marked by the publication of a book, a documentary film, a website and an education pack for primary schools.
Mr Davies hopes that forming a permanent historical society would keep people's enthusiasm for local history alive.
"The Ancient Cwmbran Society's aims and objectives pick up the mantle of the project that it was born from; that being to inform and educate the people of Cwmbran about their rich cultural heritage.
"We also aim to discover and utilise the archaeological resources apparent within the Cwmbran area and to develop tourism."
The Ancient Cwmbran Society iwill be launched with an event at Henllys Village Hall on Wednesday at 1900 BST.
Future activities include community archaeological digs during the summer and lectures by experts on history and archaeology.